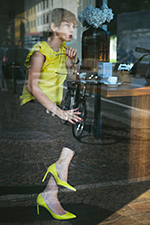 We're here to help you successfully launch your professional career.
Read the rules and regulations of your license. These can be found at your cosmetology state board's website.

Understand the services you can and cannot legally provide under your license.
Understand your state's requirements for infection control.
Complete Barbicide's free online certification to master proper infection control. A great addition to your resume!

Contact your local city hall—the city may have additional restrictions. For instance, they may not allow you to practice in your home or operate a mobile business. It's your responsibility to know what you can and cannot do.
Join a professional association. Membership in Associated Hair Professionals (AHP) offers a variety of benefits including hair dresser liability insurance.
Create a professional email account. No more bootylicious69123@hotmail.com. AHP members get a free email account!
Review and update your resume. Is your contact information correct? Has someone else reviewed it for spelling and grammar? AHP provides resources to help you write your resume and cover letter.
Print professional business cards. Carry them with you everywhere you go. You never know when you might meet a business contact. AHP members get discounts on business card printing and a wide range of other useful marketing tools.
Get online and research yourself. Employers will likely do the same.

Google your name (including any former names/nicknames) to see what comes up. If party pics from last weekend show up, you've got some work to do.
Google the email address listed on your resume. Only your professional information should appear when you do this.
Look at the image results from your search. If any unprofessional photos appear, find out where they're stored online and remove them.
If any unused social media profiles appear (that MySpace account you posted all those crazy pictures to), close your account.

Build a professional website. Use it as an online portfolio, featuring pictures of your work. Include your resume, and present yourself as a savvy graduate. AHP members get a free, fully hosted website with a choice of templates and customizable content!
Subscribe to at least one industry publication. View a list of the best publications. AHP members receive access to some of these, included with your membership!
Volunteer for a local, industry-related non-profit. View a list of related organizations to be a part of.
Build your referral network. Find massage therapists, estheticians, photographers, fashion designers, etc. who have clients that could use your services and work out a mutual referral system.
Membership in Associated Hair Professionals (AHP) includes access to many of these resources. Join now!