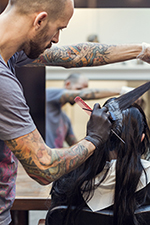 All beauty professionals should have their own liability insurance.
Many professionals who work in a spa, salon, or salon suite mistakenly believe the landlord or owner's insurance policy covers them. Sometimes it does, and sometimes it doesn't—or it may cover only certain services. If you also provide services at your home or in a client's home, you're probably not covered for any accidents that occur in those locations. And if the landlord or owner misses a payment or allow the policy to lapse, you might not find out until it's too late. Having your own hairstylist liability coverage isn't a luxury. It is absolutely vital for your protection.
4 Questions to Ask Your Landlord or Employer
Does your liability insurance policy cover ME individually? Many landlords or salon owners mistakenly believe their insurance covers each professional who works there, should there be an unfortunate client mishap. But under some plans, the business alone is protected—not individual professionals. If you are personally named in a lawsuit, and the policy doesn't cover you, you will be liable for your own attorney's fees, court costs, and share of the settlement.
Does your policy cover every type of service I provide at work? Certain services, techniques, products, or equipment may be excluded from the landlord's or owner's liability insurance policy. They may not even fully understand who and what is covered by their insurance—that's why you need to find out.
Is your policy current? Even the most competent individual may set an insurance bill aside and fail to renew it on time. If something happens to your client and the policy has lapsed, you won't be covered.
Am I covered for services I perform outside of your facility? If you provide services to clients, friends, or family members in your home or at any other location, you likely aren't covered by the landlord's or owner's policy. You may be thinking, "Even if something went wrong, my friends wouldn't sue me!" But liability coverage is for the client's protection too. If you provide services to a friend or family member, and an accident or product reaction means they incur major medical expenses, your insurance is there to help.
If you're unsure about your salon's coverage, why take a risk?
Legal fees and defense costs can be substantial—even when you aren't found liable. Settlements can threaten your assets and future earnings. Professionals realize that insuring themselves just makes good sense. Protect yourself with individual liability coverage from AHP.
Learn more about protecting your assets, career, and yourself by calling AHP at 800-575-4642 if you have questions.