What exactly is liability insurance? What does it do? Why is it important?
Liability insurance is an insurance policy that protects you when you are being sued and/or being held legally liable for claims of negligence resulting from damage or injury to a person or property.
Simply put, you've been negligent in some way at work, and it resulted in injury to a client or damaged their property in some way.
Liability insurance protects you against the following types of situations:
Professional Liability – A client has been injured during the service you performed.
Product Liability – A client has suffered an allergic reaction caused from a product used on them or sold to them for at-home use.
General Liability – A client has been injured during a slip and fall, or due to faulty equipment, including damage to client's property.
The Missing Hair Extensions
This story can be scary for some but has a lot of valuable lessons we can learn from.
A stylist named Liz was working a double shift in the salon. She started her day at 8:30 a.m., worked until 2:00 p.m., then came back at 4:30 p.m. and worked until close. They had been short staffed due to a few fellow stylists being out sick with the flu.
Earlier that day, a woman came in for a consultation about having hair extensions put in. They discussed length, color, price, maintenance, etc. Liz went into the back room and grabbed some samples to show the guest the different kinds of extensions they have and what would be best suited for the client.
They finally decided on human, strand-by-strand, cold fusion extensions. During the consultation, Liz noticed there were some questions and body movements that raised red flags with her. The client kept asking how much hair they have on hand, the different kinds of extensions they have in the back room. How often shipments come in and if Liz knew what the street value was of hair extensions. The client kept looking around, almost making mental notes of which room was which and where the back was that Liz went into. At the end of the consultation, the client asked if she could use the restroom. "Of course you can, I will show you where it is," Liz said. She showed her where the restroom was, and she then went back to her station to clean up and get ready for her next appointment. Ten minutes went by, and Liz kept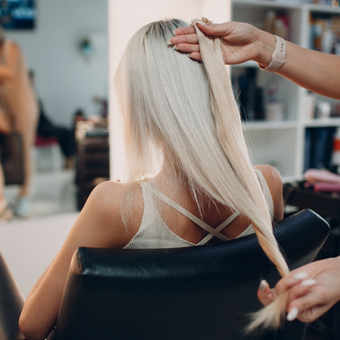 looking toward the back to see if the client was still in the restroom. Liz walked back there and noticed the bathroom door was open, but the client had never walked out of the salon. She went up and down the back hallway, then opened the back-room door and there was the client, looking through drawers as if she was looking for something. Liz immediately said, "You cannot be back here!" The client said she must have gotten lost and wandered in the back room. Liz thought it was obviously fishy and asked her to leave the back room. The client quickly scurried out and left the salon without saying goodbye or even making an appointment for her hair extensions. About an hour later, Liz called the client to schedule the follow up appointment, but the number that the client gave her was an invalid number.
Later that day when Liz came back for her second shift, she talked to another stylist about her unique encounter with her consultation earlier that day. Oddly enough, the other stylist mentioned that a man came in later that day saying that his girlfriend had come into the salon and left her phone there and asked if he could look around for it. Then the man walked straight to the backroom looking for her phone! The stylist who was working asked him to leave the back room and that she would search for the phone and if she found it, she would give him a call. Needless to say, there was no phone to be found.
It was just before closing time, and as the stylists were cleaning up, the front door opened and in walked the man from earlier and the woman from the consultation. The two stylists immediately said hello and just as Liz was about to say she tried calling her to schedule her appointment, the man pulled out a gun. They were there to rob the salon! The man yelled, "Give me the cash in the drawer and show me exactly where your extensions are." The woman snapped at the man, "I told you where they were in the back." At that moment, Liz bolted toward the back door, and the other stylist immediately followed her.
They rushed out of the salon and ran to a nearby grocery store and called 911. During this time, the man and the woman took the whole register, and the hair extensions from the backroom. Neither chased the two stylists.
This story, although scary, does have a happy ending in that the bad guys were arrested later that night and the two stylists were safe.
What would you have done? Would you have done anything different?
A few valuable lessons to take away from this:
Be aware of your surroundings.
If something doesn't feel right or feels off, make sure to tell someone about it.
Be aware of any suspicious activity you may notice or see.
Protect yourself and your business.
The AHP Business Personal Property (BPP) Insurance is contents coverage for your business. This valuable option is tailored to our members' unique insurance needs in the event of equipment loss due to a fire, flood, theft, etc.
For more useful tools to help advance your career and knowledge, join AHP. We have education at your fingertips with our video library, AHP Indie Stylist magazine, blogs, and more at www.associatedhairprofessionals.com 
Not a member? Click www.associatedhairprofessionals.com to join and get access to all the benefits we offer to support you and your career as a barber or cosmetologist.