Were you a Lip Smackers fan? For many of a certain generation, Lip Smackers were your first foray into "makeup." According to Click Americana, Lip Smackers was dubbed the world's first flavored lip balm with basic flavors like cherry and strawberry. In 1975, they expanded into name-brand collaborations by teaming up with some of the biggest candy and soda brands: Dr. Pepper, Orange Crush, and Tootsie Roll, to name a few.
Lip Smackers is not the only cosmetic company to team up with a seemingly opposite or unrelated brand.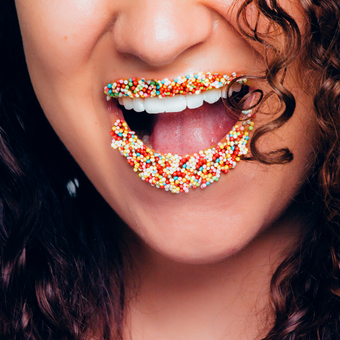 Here's just a few of the many companies to do the same:
Hipdot Makeup:

Marshmallow Peeps
Tapatio hot sauce
Reese's

Revolution Makeup and Fruity Pebbles
Sally Hansen and Mentos
ColourPop cosmetics and Halo Top ice cream
Morphe:
Elf Cosmetics:

Chipotle
Dunkin' Doughnuts
The number one cosmetics-food brand on the list is Glamlite.
The company founder suffered years of bullying for her weight and started the cosmetic business to create products made for everyone. This company almost exclusively sells beauty products inspired by the foods she loves to eat. Glamlite's first product was a pizza eyeshadow palette.
Their most recent collaboration was with Hershey for a makeup line inspired by Hershey Kisses.
Are these companies simply both influencers playing into each other's followers?
In 2019, Elf cosmetics had the largest ever marketing campaign through TikTok and happened to be the only mass cosmetic company creating on this platform. The only other brand doing the same was Chipotle. The partnership just seemed natural. The two joined forces creating an Elf eyeshadow palette inspired by Chipotle. Chipotle offered free chips and guac with the palette purchase.
The eccentricity and exclusivity of this partnership drove demand. When the limited-edition palette sold out, consumers called customer service in tears!
Why do these partnerships work?
For many of these partnerships, the companies have similar target markets and target goals. In the example of Elf and Chipotle, they both target the same demographic: young professionals, college students, tweens, and teens. A Chipotle-inspired eyeshadow palette is also unexpected and drives demand.
Other companies may partner because they have similar values. For example, they may focus of sustainability and responsibility and offer vegan and cruelty-free makeup/vegan food.
Like articles like this or want to learn more about something else? Let us know!
We have education at your fingertips with our video library, AHP Indie Stylist magazine, blogs, and more at www.associatedhairprofessionals.com. Not a member? Join AHP today, and get access to all the benefits we offer to support you and your career as a barber or cosmetologist.
NOTES
https://www.mashed.com/825204/delicious-food-and-beauty-collabs/
https://guiltyeats.com/2022/02/08/glamlite-and-hersheys-teams-up-for-new...
https://www.contentcucumber.com/blog/case-study-on-elf-cosmetics-collabo...