Being a licensed professional for over 20 years has taught me something that is invaluable to this profession, and I do it with every single client who sits in my chair—a proper consultation. I remember being in cosmetology school and listening to my teacher say, "Whatever you do, always ask, verify, and repeat back what the client tells you." Little did I realize that those few words of wisdom would make or break the difference between an amazing customer experience and a bad one.
We have all made mistakes and learned quickly not to make them again. And maybe just like me, some of you have heard the dreadful words, "That's not what I wanted." These moments are when I say to myself, "What could I have done better? How could I have better understood what they really want?" This is when it hit me—I thought back to what my teacher said. It's about the consultation and the continued communication throughout the service I am providing.
Sounds pretty easy if you think about it. Why wouldn't we ask what the client wants? Why wouldn't we confirm with them the exact length they want taken off? Sometimes clients don't go into detail and we all know our inch and their inch can mean two completely different things.
Here are a few tips to help you increase your bottom dollar with a consultation that has worked for me.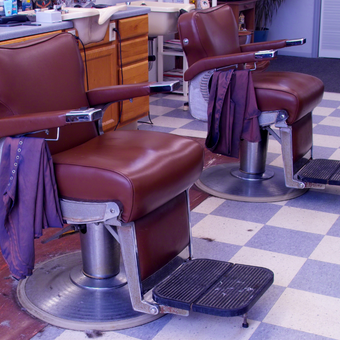 Always ask open ended questions
Even if you're with a repeat client who gets the same thing every single time, I still take the time to ask them what they want.
What do you like most about your hair? This helps let you know what they absolutely love and do not want to change, or perhaps enhance what they currently love.
Did your style wear the way you wanted it to since the last time you were in? This question can be an indicator of growth pattern or tweaking the cut. If they mention that their bangs got in their eyes sooner than they have before, then maybe you need to take them a bit shorter this time around.
If you could change anything, what would it be? This is where your spidey sense comes into play. You may need to read between the lines. They may suggest wanting curly or straight hair. This can be an upsell service of a perm or relaxer. They suggest a dream color—this can be a new color service or a tweak of what you currently do for them.
Has your morning routine changed since the last time I saw you? This is a question that can open the door for added money on your overall ticket. Let's say the client is now working from home instead of going into the office, and they have extra time in the morning to style their hair rather than the wash-and-go cut you've provided them in the past.
What products are you currently using? Are you happy with the results of using these products? This can be an upsell or recommendation of different products to achieve the desired results.
Suggest a new styling aid or a pop of color
A simple suggestion such as this to a repeat client can work wonders for their self esteem and overall ticket at check out.
For example, Suzy Q comes in every 8 weeks for her touch up and trim. I like to suggest a pop of color in both summer and fall. "I've been thinking about your color and think a few low lights to break up the blonde a little bit would look great, especially with fall right around the corner. If you have an extra 30 minutes today, I can get that started for you right away." A simple statement such as "I've been thinking about your color" lets your client know you've been thinking about them and truly care about their hair.
In any consultation, really listen to what they are saying. Observe your client, pay attention to cues they suggest about their lifestyle. Do they have kids? Do they work from home? Do they like to spend time every morning styling their hair? Are they always on the go?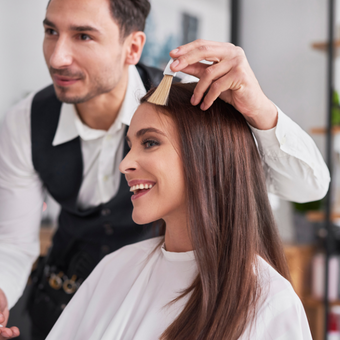 Repeat it back to them. It is extremely important to repeat back what your client has stated to you. This is where both you and your guest really come together on your shared ideas and suggestions.
Give your expert advice. After all, you are the expert! Do not hesitate to give your professional feedback if your client is suggesting something that could compromise the integrity of their hair, skin, or nails. This is how you trust and create a repeat client. The last thing you want to do in proceed with a service you know will result in a chemical haircut or having them walk out with something they will not like.
Communication during the service. This is where our consultation can get lost in transit. You have taken the extra time to go over what they want; now it's time to make sure you are continuing to do what they agreed to.
Your client tells you they want a low taper fade. There can be many variations to any haircut, so starting out with the cut, show with your fingers the length you two agreed upon or start with a small area with your clippers to show the guest how much is being taken off. I always say—you can always take more off, but you can't glue it back on!
Do frequent check-ins during the service. Show them the length of layers mid-cut that they said they wanted so they can see the volume and fullness they were looking for.
During the shampoo, follow up with the original question you asked them when they were in the chair about products they are using. If they stated they were unhappy with the shampoo and conditioner they have, use another one that ties into what they were looking to achieve in the first place—hydrating, volumizing, etc.
When you're styling, insert the original conversation about products. If they have a new cut or chemical service that will require a curling cream or heat protectant to achieve their desired look, start recommending the products to help the integrity of their hair and desired result.
Communication at the end of the service. At the completion of the service, if your client has agreed to take home products, write down instructions on how to use them. After all, we want them to achieve the same desired look they came in for at home. This will not only help with closing the sale, but also ensure that you have done your very best to help keep the trust between both you and your client.
Communication after they leave. Yes, you read that right—after they are long gone. Did they purchase a product from you they will be using for the first time? Call them after a few days and follow up with them. A simple call, text, or email to say, "Just checking in to see how the new hairspray is working for you." This will indicate that you not only care, but you listened to their needs during your consultation.
When your client moves past the new stage to a regular client, it's important to continue having the consultations and communication to make sure you are both on the same page. Many times, our guests leave us because we have taken them for granted and assume we know what they want or need. Not intentionally, of course, but we become comfortable and miss the cues of what they originally came to us for. Master the art of the consultation and you will see in turn, your income increase.
Smart hair professionals realize that, while being named in a lawsuit is unlikely, it's not worth risking your career. In this sue-happy age, it's expensive to defend yourself even when you've done nothing wrong. Why chance it when excellent protection is so affordable?
Associated Hair Professionals (AHP) offers protection with the industry's best value in liability coverage for hairstylists and barbers. For only $199 per year, you receive:
$2 million per occurrence
$6 million total per policy year (for YOU, not shared with other professionals)
Covers professional, general, and product liability
Covers you wherever you work, no matter how many settings