What to rent? Consider these pros, cons, and considerations before making your decision
by Tanya Owens

To rent a suite or not to rent a suite, that is the question. Or, in other words, are you happy with your business location? As independent stylists, we can run our business as a booth or chair rental in a large salon with multiple chairs. Renting a salon
suite in a large, subdivided building is also an option for hairdressers to consider. There are many options, and it may all seem overwhelming. Plus—let's be honest—no one wants to move their clientele to a new location if they don't have to. So, in order to make your best rental decision, you'll want to consider the pros and cons of booth/chair and salon suite rentals. Let's take a look!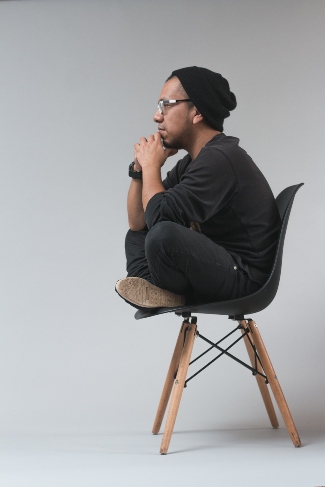 BOOTH AND SALON CHAIR RENTALS
PROS
Peer assistance: If you find you're out of 20v developer, it is easy to borrow a bit from a friend and replace it the next day.
A receptionist: I sure miss them in my suite!
Cleaning service: Most salon owners include salon cleaning in your rent.
Camaraderie: It's nice to have other stylists around to bounce ideas off of or ask for help on a tough corrective color.
CONS
Daily management: You and the salon manager may not be compatible.
Minimal product income: You may only be able to get 5–10 percent commission on your retail sales.
Provoking peers: Sometimes you may feel you can't escape a crabby or critical stylist who works right next to you.
Creative space: Are you the type of stylist who has flair? (OK, dumb question.) Salon owners won't always take into consideration what music you want to listen to or what decor makes you feel better in your craft.
RENTING A SALON SUITE
PROS
Business name and branding: You can name and brand your business any way you want.
Salon décor: You choose your salon style, music, diffuser smells, retail, and more!
Online presence: You can run and operate your business the way you've always wanted to. And you can post pictures and videos on social media all day long.
Flexibility: You have the ability to sub-rent your space the days you aren't working.
Max retail income: You will make the full profit on everything you sell. Many times, companies will send you free products to try out their lines. You can choose your favorite products or stay exclusive to one line.
Personal connections: I love going into deep conversations with my clients. The salon suite gives me the option to have those tender one-on-one moments with each and every client.
CONS
Business licensing: You will need your business name and license, sales tax license, and salon insurance.
Product inventory: If you want to sell salon products (and of course you do), you will need to pay sales tax and buy the inventory for your salon.
Salon suite cleanliness: You will have to take the time to do your own laundry and clean your own suite. Many salon suites are stellar in the public areas, but you're on your own in your salon suite.
Crazy clients: You are utterly alone if you get a crazy client. They can say or do whatever they like, and you won't have another stylist or manager to step in.
A true commitment: Once you move to a salon suite, it is hard to go back. The online presence you build (and your business name) cannot be used inside a booth or chair rental salon, so be sure you are in it to win it. Otherwise, your business marketing while in the suite may be wasted.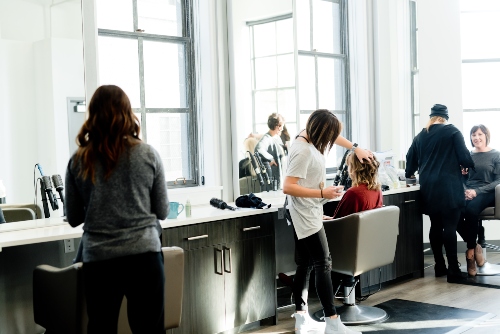 There are Compatibilities
New Clients: If you are renting a salon suite, you can create your own online presence and social media. On the other hand, in a booth or salon chair rental, you may get more walk-ins without the marketing effort since the salon owner is working hard to get new clients in the door for you. It all depends on what you prefer.

Out-of-Pocket Expenses: In most cases, you will need to provide your own shears, blow-dryer, brushes, capes, and color line. Some booth and chair rentals offer the shampoo bar and towels with the price of the rent.

Insurance: No matter which way you choose to work, you will want to protect your business with AHP hairstylist liability insurance. Nothing is more important than protecting your livelihood should an accident happen behind the chair.
QUESTIONS ABOTU RENTING A SALON TO ANSWER
There are a few pros and cons when considering salon rental
options, but it's important to weigh your options, find
your ideal place, and stick with it. Here are some questions
to ask yourself while making your rental decision:
Do you enjoy listening to the music of your choice while working behind the chair?
Do you find you like uninterrupted one-on-one time with your clients?
Do you feel like you can complete a complicated cut or corrective color on your own?
Can you handle a needy or unhappy client on your own and offer good customer service?
Are you able to make your own appointments, sell products, and clean up after yourself?
If you answered yes to all of these questions, renting a salon suite may be a perfect fit. If you had mixed answers, consider questions you answered no to, and find the sweet spot that works best for you. If you answered primarily no, then a booth or salon chair rental is best for you at this time. But don't make a drastic decision. Take the time to really think about what option is best for you.
Think Salon Rental Options Through
Circle the pros and cons in this article to find out which ones will affect you most.
Search salons and suites in a five-mile radius, and book a deep conditioning treatment with a stylist or suite owner to get a feel for the location and vibe of the salon.
Ask your clients their thoughts on your current salon, and consider their feedback.
Finally, make sure your move will benefit your clients; if you want to move, you'll want them to move with you!

AHP Indie Stylist is AHP's bimonthly publication, created to speak directly to you, the independent hair stylist and barber. In this issue:
► Shay's Secrets
Hairdresser Shay Dempsey shares from his expertise
► Ready for the Runway
Modern braided ponytail how-to
► Follow the Leaders
Pursuing influencer and mentor relationships
► Pinwheel Color
Up the shag trend with vivid color
Are you a licensed hairstylist or barber with something to share with other stylists? We would love to publish your expertise! Reach out to our editor mary@associatedhairprofessionals.com for more information.