AHP Beauty Sense is a magazine for consumers featuring advice on hair care, hairstyling, and beauty written by the real professionals—licensed hairstylists and barbers. Sharing all the things hairstylists wish every client knew, AHP Beauty Sense is a magazine that gives hairstylists a voice and clients a look at the art and science that goes into the hair industry.
Recently honored as a finalist for Best Web Publication/Trade & Consumer at the Maggie Awards, AHP Beauty Sense Volume 3, Issue 1 features 2019's coolest styles hot off the runway as well as the following topics: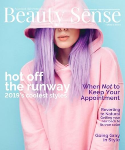 • When Not to Come to the Salon by Ali Davidson, Director of Associated Hair Professionals—@ahphair
• Reverting to Natural: Getting Your Hair Back to Its Own Color featuring a makeover by Whitney Vaughn—@LotusWhitney
• Going Gray in Style: Gray Does Not Have to Look Old by Anny Vandriel, hairtylist and owner of Be Rosie Salon—@AnnyVandriel @berosiesalon
Created for members of Associated Hair Professionals and open for use to all hairstylists, AHP Beauty Sense is available to share with clients at https://beautysense.associatedhairprofessionals.com/i/1116298-volume-3-issue-1.

Are you a licensed hairstylist or barber with something to tell clients about our industry?
We would love to publish your expertise! Reach out to our editor, ali@associatedhairprofessionals.com for more information.