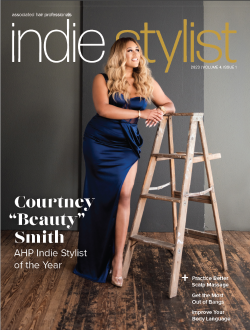 AHP Indie Stylist of the Year
Our 2023 AHP Indie Stylist of the Year Courtney "Beauty" Smith made an appearance at this year's Premiere Orlando event. Beauty joined AHP, and our sister organization Associated Skin Care Professionals (ASCP), for an evening of fun and dancing at Ole Red Orlando.
The party featured ASCP's 7th annual Readers' Choice Awards party, where the biggest brands in the skin care industry were awarded for their amazing products and devices. Beauty was also honored at the event, where she spoke about her inspiring story to success, from barely making enough for rent and gas to becoming a business owner in the $100K club. At the event, Beauty was awarded prizes from My Salon Suite, who also donated to their scholarship fund in her name. You can read all about Beauty's story in volume 4, issue 1 of AHP Indie Stylist magazine.

2024 Nominations are Open
Just like Beauty's journey, your work as a hair professional is unique and exciting, and we want to hear all about it. The nominations are open to become the 2024 AHP Indie Stylist of the Year or Indie Barber of the Year. Nominate yourself and let your friends know they can nominate themselves too. Simply submit your story telling us why you deserve to be the next Stylist or Barber of the Year. The winning submission will receive a professional photo shoot and their story will be featured in a future issue of AHP Indie Stylist magazine.
Be the next Indie STYLIST of the Year!
Be the next Indie BARBER of the Year!

Liability Insurance for Protection
Smart hair professionals realize that being named in a lawsuit is not worth risking your career. Why chance it when excellent protection is so affordable? AHP offers protection with the industry's best value in liability coverage for hair stylists and barbers.