BEAUTY AND PERSONAL CARE INDUSTRIES GATHER TO CELEBRATE AND SUPPORT LEGENDS, HEROES, ADVOCATES AND SURVIVORS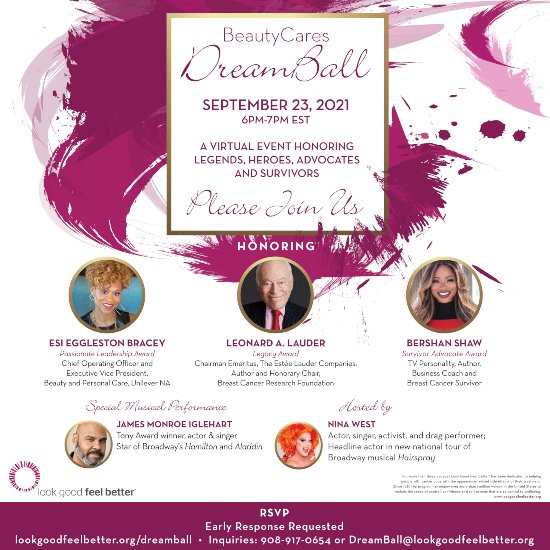 Look Good Feel Better, the global charitable organization dedicated to serving people in cancer treatment, will celebrate its annual BeautyCares DreamBall on Thursday, September 23, at 6:00 p.m. (ET). The free, open, virtual event features Nina West, actor, singer, LGBTQ+ activist, and groundbreaking drag performer as host and special performances by Tony-Award-winning Broadway performer James Monroe Igelhart. Honoree award winners will include beauty industry icon Leonard A. Lauder and industry changemaker Esi Eggleston Bracey, along with cancer survivor advocate Bershan Shaw. To attend, participate or donate, visit
lookgoodfeelbetter.org/dreamball.

The annual event supports Look Good Feel Better, a free, global charitable program that addresses the appearance concerns of cancer patients. The BeautyCares DreamBall gathers the beauty, personal care, retail, and publishing industries, as well as program volunteers, hospital partners, cancer patients and survivors.
Founded in 1989, Look Good Feel Better has served more than 2.1 million cancer patients in 27 countries. In 2019, Look Good Feel Better introduced its LIVE! Virtual Workshop platform, an invaluable resource for people undergoing cancer treatment, especially during the COVID-19 pandemic. Look Good Feel Better LIVE! Virtual Workshops, cover skin care and makeup, wigs and headcoverings, nail care, and body image and styling, and enable patients to gather, share, and learn from the comfort and safety of home.
"If we've learned anything during the pandemic, it's that people in cancer treatment need community, connection, and camaraderie now more than ever," said Louanne Roark, executive director of the Look Good Feel Better Foundation. "We are grateful to deliver our program virtually, and with the support of our corporate partners, hospitals, and volunteers, we've continued to expand our capabilities. The annual DreamBall Gala celebrates the industry that supports this important program and demonstrates to people enduring cancer treatment that we are here to serve and support them."
The BeautyCares DreamBall recognizes personal care and beauty industry leaders for their support of the Look Good Feel Better mission, as well as cancer survivors whose stories inspire others. This year's honorees include:
Esi Eggleston Bracey, COO and EVP, Beauty and Personal Care, Unilever NA (Passionate Leader Award)
Leonard A. Lauder, Chairman Emeritus, The Estée Lauder Companies, Author, and Honorary Chair of the Breast Cancer Research Foundation (Inaugural Legacy Award)
Bershan Shaw, business coach, TV personality and breast cancer survivor (Survivor Advocate)
Hosted by Nina West, star of the upcoming national tour of Hairspray the Musical, the BeautyCares DreamBall program will feature performances by Broadway star James Monroe Igelhart, honoring his wife Dawn and others like her experiencing their own cancer journeys. An online auction, featuring dozens of exclusive items and experiences is now open.
ABOUT LOOK GOOD FEEL BETTER
Look Good Feel Better is a collaboration of the Look Good Feel Better Foundation of the Personal Care Products Council, and the Professional Beauty Association. For more information about Look Good Feel Better's free programs available across the country, around the globe and online, visit lookgoodfeelbetter.org.