How to create a buzz that will fill your book
By Britt DuBose
Each person who sits in your chair becomes a walking advertisement for your business. It's important to make the most of this opportunity. Here are a few tips to make word of mouth advertising work for you.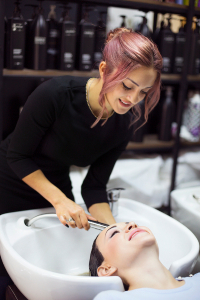 Treat each client like a VIP
Put your best foot forward with every client, every time. Do a good job. Make them feel valued. Educate them on properly caring for their style. They will feel like a million bucks, and their friends will notice.
Ask for referrals
If you want your clients to refer their friends and family, ask them to. It's as simple as that. Your loyal clients trust you and will happily sing your praises. Ask them to take it to social media too. You will connect with a whole new group you may not otherwise meet.
Create a referral program
This can be as simple as a free cut with their next color service after they have referred five people. Or 20% off their next service after they have sent you three people. It's a great way to thank the clients who are helping you build your business.
Give them the tools
Never let a client leave your chair without at least five business cards. When they are inevitably complimented on their hair (because you've done a great job) they will be prepared to pass along a card.

Before you know it, your book will be full!
Are you a licensed hairstylist or barber with something to share with other stylists? We would love to publish your expertise in our blog or AHP Indie Stylist magazine! Reach out to our editor mary@associatedhairprofessionals.com for more information.