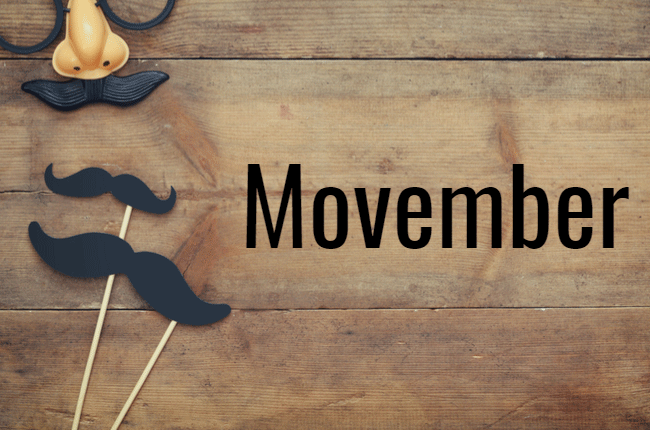 What is Movember and How Did it Start
As with many great ideas, it all started with a beer. Movember has become such a trendy movement, yet few people know that it was started by two mates in Melbourne, Australia, who inspired "30 Mo Bros" to bring back the mustache for one month and raise money for a cause. Yes, a cause. Believe it or not, Movember isn't just a fun time to try on a mustache. It's actually about bringing attention and funds to support men's health, particularly prostate cancer, testicular cancer, mental health, and suicide prevention. Men aren't just supposed to grow a mustache for "likes" on social media; they are supposed to, "Grow a mo and save a bro," according to the official Movember Movement.
How to Participate in Movember
Individual mo growers should register on the official movember.com website for unique links and ways to help fundraise for these devastating health concerns. We tend to get caught up in the mustache, but that's really just akin to the ribbon for the cause. Your salon or barbershop can be registered as a team to help support the cause, as well. There are tons of fundraising ideas, marketing support, and ready-made promotional pieces available to help your shop once you're registered on the official Movember website. This is a perfect ready-made promotion and charitable cause to help bring more people into your salon or barbershop (especially if you're looking to increase your male clientele) and raise money for a great cause.
How to Get Clients Involved with Movember
Don't be afraid to get involved if your clientele is primarily female. Every woman who sits in your chair has at least one man they care about, and they will see value in the Movember Foundation and the support they're providing for men's health issues. Sure, most women aren't into wearing mustaches themselves, but they can help support the cause just by moving. As a salon (or an individual), you can set a distance goal for movement (running, biking, swimming, etc.) through November and fundraise along the way. What a positive way to do something healthy as a salon team and support a great cause! Again, resources to support you are available on the Movember website once you register as a Move supporter.
Tips for Getting Your Salon Involved with Movember
Before you get your salon or barbershop involved, make sure you're aware of the brand use and fundraising guidelines. Do not try to create your own "Movember" gimmick to profit off the mustache hype. "Movember" is a copyrighted word. Make sure if you're putting on a Movember event it is registered on the Movember website (Bonus: that's added publicity for your event, anyway) and it is supporting the Movember foundation. Don't call it an "Official Movember Event," though, as that is against the movement's guidelines. They do not want to be held liable if someone confuses them as being the organizer of your event. That's understandable, so just leave the "official" out of it. Also, because "Movember" is copyrighted, you cannot make and sell your own Movember merchandise. You are welcome to purchase official Movember gear from their online store. Another big one that I've seen a lot of salons and barbershops do for various causes that's a no-no for Movember, "Don't offer goods or services for sale on the basis that a percentage or number of dollars per sale will be donated to the Movember foundation, unless you have a written agreement with the Movember Foundation." The foundation also discourages telemarketing, door-to-door fundraising, and/or collecting money in public places (like at an intersection) on behalf of the Movember Movement. A complete list of brand use and fundraising guidelines is on their website.
The Movember Foundation has gone to great lengths to make it as easy as possible for salons, barbershops, and hair professionals to support their worthy cause. The Movember Movement is a ready-made promotion that can easily be worked into your marketing plan. If November is already a super busy month for your shop, think about the retail commercials for "Christmas in July." "Movember in July" could cause quite a commotion... Just make sure you're participating in the Movember Movement and supporting the Movember Foundation within the rules of Movember that two mates from Australia graciously dreamed up over a beer at the Gypsy Bar.
This article originally appeared in Ali Davidson's column, Mission: Business Beautiful, in Stylist Newspapers November 2017.