We All Started Somewhere
By AHP Staff
Do you remember the day you enrolled in cosmetology school? Maybe it was 10 years ago, but you remember the experience like it was last week. You might have gone with your mom to tour the school, but in your heart, you knew you were going to enroll. You had been looking forward to the day you could sign the dotted line and begin your journey as a hairstylist or barber!
Maybe your parents tried to talk you out of becoming a hairdresser or barber. They may have even asked your hairstylist to try to talk you out of this career choice during your next appointment by mentioning the long hours, the late night clients, and how hard it was to build a loyal clientele. But maybe that plan backfired. Maybe your stylist also mentioned she traveled as a platform artist for a major hair brand, and the exciting experience of opening her first salon . . . making you almost giddy with anticipation of all the possibilities!
For many of you, it might have been a real challenge to attend school. It might have been difficult to find daycare for your young children; you may have had a part-time job, leaving you little time for anything but work and school; the cost of cosmetology school may have had you concerned; or maybe you wondered if you were talented enough to make it.
But you overcame the challenges because you knew that the beauty industry could change your life. The visions of an exciting, fun career that could improve your client's lives by building their confidence and self-esteem was powerful enough to propel you forward.
Hopefully, your cosmetology school experience was positive. We are all unique individuals and each of us have our own story, and school was the perfect time to learn to appreciate and respect differences of other students . . . building relationships and seeing each other's potential. Your instructors saw the potential in you and encouraged you every step of the way. They taught you not only technical skills, but also how to think and act like a professional. They helped you hone your people skills when greeting clients, gave you tips on how to retain clients, schooled you in the art of educating clients on the benefits of using professional products at home, and showed you how to ask the right questions during a client consultation. They also took pride in seeing your talents and confidence grow every time you gave a client a service. When you graduated, you were a different person than when you started school. You were educated, confident, and excited to make your dreams a reality.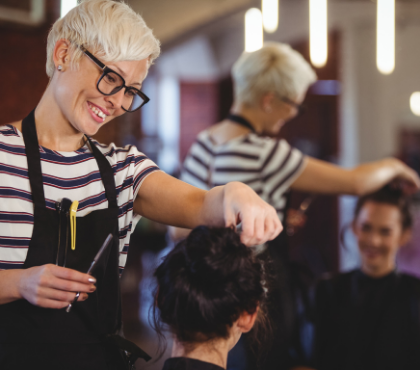 All of you have improved your clients' lives with the hairstyling and barber services you've provided. You have been able to help support your families using your creative talents. Some of you may have become business owners and opened your own salon or barber shop; you may employ other hairdressers and barbers, giving them the opportunity to gain experience and confidence; you may have even returned to your alma mater to become an educator. You have so many choices in your career path that it keeps the journey interesting and exciting.
Every day in the beauty industry is a new opportunity to impact someone's life. As hairstylists, hairdressers, and barbers, you are in a unique position to touch people far deeper than their hair. You become a friend, a confidante for your clients. They look forward to seeing you on a regular basis, and they trust your opinion when recommending a new hairstyle or the home care products they should use. You probably know more about them than their spouse does! Every day might not be exciting, but at the end of the day, you feel fulfilled that you've provided the best care and services possible for your clients. You might think back to when you were first licensed and saw your first clients. You were so nervous! Now, you feel only anticipation for each new day, and look forward to seeing each client, whether they have been coming to you for years or it's their first appointment.
If you ever should feel your passion for this industry growing dim, think back to that first day of cosmetology school. Think back to how excited you were to meet your classmates and cosmetology instructors. Think about how excited you were when you did your first up-do on your mannequin head or the first time you performed a cut, shave, or color service on a real live client! Think back and remember all the dreams of what you'd do when you graduated. Don't lose sight of why you chose the beauty industry in the first place.
We all may have started out the same way attending beauty school, but you've come a long way, baby! Be proud of how you've grown and of being part of an industry that really does change lives!
"We delight in the beauty of the butterfly, but rarely admit the changes it has gone through to achieve that beauty."
― Maya Angelou