Stylists create inner and outer beauty on a daily basis, but every so often it can be life-changing in how a person feels about themselves. Courtney Wilburn shares how transformative the cut by Kyleen Garcia (@kyleen.garcia), Sam Villa ambassador, Redken artist and Union Street salon owner was in her self-discovery journey. See it on TikTok here.
"It took me years to work through the constant pressure to look 'girly.' I was so uncomfortable with myself, even though I technically looked like what a stereotypical woman should look like (i.e., long hair, painted nails, tight clothes), but it just wasn't me," says Wilburn. "I would then fight with myself and think that I'd be even more uncomfortable if I cut my hair and dressed the way I wanted. As I got older, I realized that those concepts are made up and femininity isn't defined by what we wear or what our hair looks like. I slowly started to wear what I wanted and felt great; the hair was the last to go," she says. "I made a post about how I wanted to cut all my hair off and dye it blonde. Kyleen messaged me instantly and said she could get me in the next morning. It was set. My wife was so nervous for me—I was known for having ridiculously long hair. But I wasn't nervous at all; something just clicked and I was ready. It was freeing knowing that soon it would be gone, and I knew I had the right stylist who could give me what I wanted. As soon as it was done, a weight felt like it had been lifted. I looked in the mirror and I had never felt so confident—that cut was made for me. I never thought a hairstyle could drastically change the way I saw myself, but it did. I wish I could bottle up that feeling and give it to people. Kyleen is a huge part of my story on self-discovery. I am forever grateful," says Wilburn.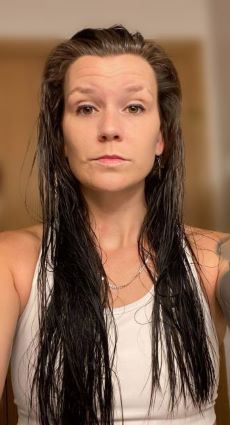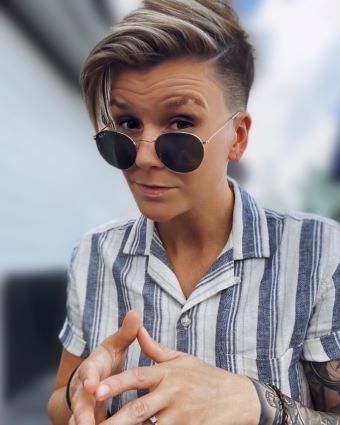 "I reached out because I noticed through social media that [Courtney] had started really embracing a new personal style," says Garcia, who had only trimmed Wilburn's hair once before. "So when she posted that she was thinking about cutting it, I immediately wanted to give her encouragement to go for it! So often, others talk people out of decisions like that; she'd had extremely long hair for a long time, but always wore it up, so I knew she could absolutely rock short hair! Also, selfishly, I wanted to be the one to do it!"
The Transformative Tools:
The majority of the hair was cut off with a Sam Villa Signature Series 6" Swivel Shear and a long cutting comb.
Clippers were used for the undercut.
Almost back-to-back foils using Redken Flash Lift were used to lighten the top and Shades EQ was used to tone.
The Sam Villa Artist Series Professional Blow Dryer and a paddle brush were used to style.