"I wanted the background of this image to be something that stood out and make you stop and look at the model's beauty, culture and features," explains Jada Jenkins, Sam Villa Ambassador, Mizani artist and L'amour de Rose salon owner (@jadajenkinsco) who offers tips for photographing textured hair.
"This piece is actually a unit/wig I created years ago that I had just sitting around the house. I added some soft color to it to give it a slight pop and complement her skin, and the background is dramatic, yet keeps the focus on the model," says Jenkins. "It's basically a wash-and-go style, brushed out and shaped."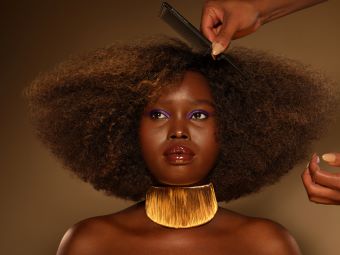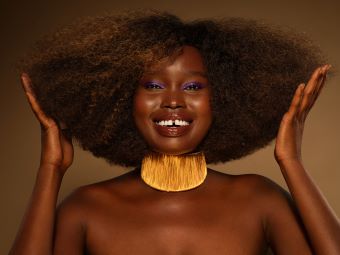 Tips for Photographing Textured Hair
Prior to the shoot, add color and/or highlights to better define the curls so they don't get lost behind the lens.
Have a vision. Start styling that vision, but before completing look, stop and see what it looks like in the lens. Looking at hair in person versus through the camera can give a totally different perspective.
When vision and reality are sorted, proceed to styling hair—this could mean continuing to work towards the original vision or pivoting more to what's really happening on set with the hair.
Understand when hair has good frizz or bad frizz. Good frizz is when hair looks lived in, but not too perfect—a few hairs that are out of place are OK; in fact, they're good.  Bad frizz prevents hair from looking done at all; it's dry and not appealing to the eye. 
Have a tail comb on set to place hair. It's great for clean strong parting and for maneuvering hair meticulously without touching it too much to create unwanted flyaways.
"I love textured hair because it can be bold and make a statement. I truly believe all hair textures are beautiful and the world needs to see more of it!" she adds.
Credits
Hair: @jadajenkinsco; Photographer: @thomaskirk_; MUA/CD: @eunicekristen; Model: @kuir.agoot 
-more-
To learn more from the Sam Villa Team, check out free weekly Facebook Live classes and 10-minute YouTube tutorials. The complete catalogue of customizable education for salons, shows and events, including Thrive On, is available here.
Sam Villa is co-founder and chief creative officer of the Sam Villa Company (Allvus, LLC), a leading education and styling tool company for the professional hair industry. He is also Global Artistic Ambassador for Redken 5th Avenue, a L'Oreal brand. Villa is the 2021 NAHA Educator of the Year, Hair Awards USA Hall of Fame Inductee, 2021 AHP Icon Stylist Influencer of the Year, 2020 International Hairdressing Awards 'International Hair Influencer of the Year,' the 2017 NAHA Lifetime Achievement Award Winner, Intercoiffure America/Canada Member, Behind the Chair Stylist Choice Award Winner for Favorite Platform Artist and Educator (2012, 2011 and 2007) and Favorite Overall Educator of the Year (2015). His inspiring education and innovative ergonomic styling tools can be experienced on samvilla.com. The Sam Villa brand brings free digital education to everyone including hot tips and techniques, as well as access to livestreamed educational events. The company also offers professional tools for consumers so they can achieve salon-quality results at home with minimal effort.