If you haven't noticed the "Menaissance" shaking up the hair industry lately, please send me the address of the rock you've been hiding under so we can send food, water, and Wi-Fi. Seriously, look around—it is as though men have rediscovered mirrors and they're finally seeing their hair as more than just a nuisance to be tamed. More and more, we are seeing services offered to men. Beard trims, shaves, facials, manicures, hot towel treatments, waxing—I can keep going, but you get the idea. Dapper gentlemen, at least in appearance, are everywhere. The Menaissance is undeniably in full swing. But if you want to tap into this ripe clientele, simply adding "Men's Cut" to your service menu will not automatically list your salon in some top-secret directory of male-friendly hair establishments. As with building any clientele, the male market must be purposefully targeted.
Interestingly, males possess a stronger fight-or-flight reflex than females. Generally speaking, if a man pulls up to your salon and something—anything—about it is threatening or stressful to him, he's more likely than a female counterpart to just drive away. Keep this in mind when mapping your marketing plan. The key to bringing in the boys is to make them feel invited, welcome, and comfortable.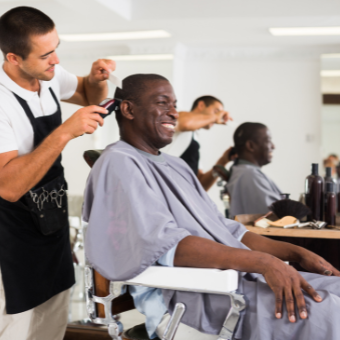 Invite men into your salon with personal VIP invitations.
The male client is far more apt to enter your predominantly female environment if he's been personally invited. A personal invitation subconsciously tells him, "It's OK for you to be here; we want you to come in." Referrals are the ultimate personal invitation, so begin building your male clientele with your female clients. If they happen to have a significant other, cousin, uncle, dad, grandfather, friend—you name it—you can start getting referrals. Create those male-specific VIP cards, then give one to Suzy when she mentions her husband is self-conscious of his thinning hair so she can send him in for a free consultation. When Samantha is talking about her son's end-of-season soccer party, give her a VIP men's haircut gift card to include in the male coach's gift. If Mary happens to caddy at the local golf course, give her a handful of VIP complimentary neck trims she can gift her patrons. Karen has been experiencing some great results from her personal trainer; offer her a VIP men's service gift card she can give him as a token of her appreciation. Keep your ears open during your client interactions for those moments you can help your clients personally invite the men in their lives to become your clients.
Welcome men into your salon by hosting some seriously manly events.
Try an evening of "Beers & Beards." Men come in for a beard trim (or a neck trim for the facial-hair deficient) and have the opportunity to sample beers from a local brewery or just enjoy a libation with their pals. Partner with a local brewer to keep costs down and cross promote. Create a real bros-hanging-out atmosphere. Or try a wedding party just for men. Women do it all the time—getting their hair, nails, and brows done to primp before a wedding day. Why not the guys? Create a wedding package that caters to the groomsmen. Offer services such as a beard trim, neck trim, haircut, a manly man's manicure, a stress reliever facial—any service that can cater to the guys to get pampered before the big day. Not comfortable with so much testosterone in your salon right out of the gate? Welcome men with a daddy/daughter event. He can use his daughter as an excuse to come in and you can take the opportunity to make him feel welcome and invited to return. Men can spend the evening bonding with their little girl while stylists teach them how to put their daughter's hair in a ponytail. Tell your current clients—the wives, girlfriends, daughters—to invite the men in their lives. The male's initial venture into the salon will be under his belt, and an offer to encourage him to return should be stuffed in his pocket.
Comfort is a feeling free from stress or anxiety.
The easiest way to give men a sense that they will be comfortable in your salon before they even pull up outside is to market your services alongside things that already give them comfort. Run a promotion in association with a hometown sports team. When the local high school football team wins a home game, all the players can come into the salon within that week for a VIP complimentary haircut. Put an ad in the program and ask that the announcer mention the special throughout the game.
This can be done on a larger scale in cities with professional teams. You don't have to buy a million-dollar sponsorship to take advantage of the hype. Have a college near your business? Invite players on the different sports teams to come into the salon and get spruced up for the game or get the team colors put into their hair. Establish a special that fits into your schedule. When our city's football team has a home game, anyone can come in for a complimentary neck trim the following day between 10:00 a.m. and 2:00 p.m. (utilize your slow hours and your slow days). Partner with a local sports bar that sees a high volume of male traffic on game days. Make a deal with the owner that you will provide complimentary haircuts to his bartenders and wait staff if they talk about your post-game special and wear something (like T-shirts, hats, or buttons) with your salon's logo on game days. The men will inevitably make the connection that a salon running a promotion like that is a place where they can feel comfortable.
If adding some testosterone to your books is something you've thought through and are ready for, go get 'em! Male clientele can increase your business tremendously. By targeting them, knowing how to start that process will get your books filling up in no time. By making males feel invited, welcome, and comfortable, the Menaissance will surely invade your business.
By AHP Staff