Beautiful, warm, sun- filled summer days are coming to an end with a new season around the corner. About that time to put away the summer dresses, shorts, and sandals only to switch them out for pants, sweaters, and closed-toe shoes. As the leaves on the trees start to change and the weather temps start to drop, we need to start a mind shift—with a new season comes new opportunities.
Back-to-school haircuts have already hit us, and now we find ourselves in that lull period of waiting for the holiday season to arrive, and we haven't quite hit homecoming or school dances yet. So, grab that pumpkin-spiced coffee and let's chat about some marketing tips that will help grow your business!
First things first—when was the last time you rearranged your retail? And I mean actually rearranged it to compliment the season. This can be a crucial step in building some more walk-in traffic. 'Tis the season for dropping temps and a dryer climate. Moving moisturizing products, hydrating serums, and lotions to your window may trigger a passersby's memory about what they may need to help moisturize those tresses. Our retail shelves aren't just for in the salon or barbershop either; promoting moisturizing products, balms, and pomades on your website will help in your retail sales.
Speaking of retail, having an end-of-summer retail sale will help clear out the older products and make room for newer ones to keep that revolving door of products moving along so they don't get too stale and old.
Try adding seasonal hooks to your marketing. Have you ever walked through a big box store in September and Halloween candy is already out? Christmas trees are already being put up and pumpkins are already on sale outside of grocery stores. Feels like it's too soon, when it is actually perfect timing. The same concept holds true for your marketing. Think "Pink October" by offering a pink strip of color in the hair or a pink micro link extension. "Movember" is the month to help create awareness of men's health. Promote and encourage support from clients. Advertise fun Halloween hair to complement a costume, such as spray-in color, spray-in glitter, or a hairstyle that will go with a parents' or kids' style for that day. Black Friday is a great opportunity to sell older stock on discount without undermining your regular prices. It's about getting your clientele in the mind-set to start thinking ahead.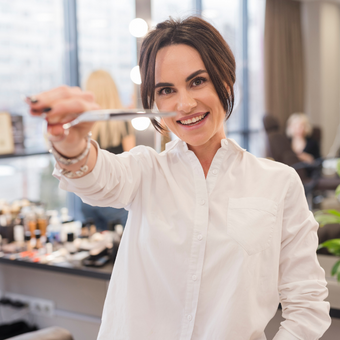 Try offering autumn specials. We have a lot of ebb and flow in the salon business, especially if we haven't quite built up our clientele yet. When this time of year falls, a lot of our clients try to hold out until right before the holidays to get their hair done. To help coax them in during these quieter months by offering a free blow-dry and style to their hair cut, a complimentary deep conditioning treatment, or a free hot towel treatment if they book an appointment by such and such a date. We know that this slow period can put a damper on our income, but if we offer something extra that doesn't take much more of our time or expenses, it can be worth it in the long run of retaining that client and keeping you busy during the lull.
Seasonal reels, pics, and videos can be a big boost to your business. "Fall hair don't care," "Fall fashion colors," New fall hairstyles to complement that new fall fashion color"—however you want to spin it, you can create a buzz just by adding some new pics to your business page or Insta account.
Hosting an event in your salon or barbershop is also a good way to get publicity. It can be anything from bring-a-friend event or a bachelorette or bachelor party to help during the slow times. Also, advertise trick-or-treating at your location. Post on social media and talk to the clients who are sitting in your chair that you will be having a costume contest and ask them to also bring a friend. The winner will be posted on social media the next day and they will win a prize. The prize can be a free haircut or an add-on service to get them back in to your salon.
Have a competition in the salon or barbershop. Post pics of some of the fall tresses and have followers vote on which haircut, style, or color they like the best. Start this with every season or holiday. "Models are needed for 'such-and-such' competition." You'd be surprised how many people would like to sign up to be a model. The best part is you can reach out to a nearby college or school to help get students in the door, which can be a win-win for walk-in business.
Whichever idea you feel will be beneficial, the most important thing to remember is any and all ideas to help promote your business and grow your following is a good business move. Building brand awareness, getting people in the door, and retaining who is loyal will help you gain momentum going into a slow season. Sit back and enjoy that pumpkin latte as you create ideas to help you and your business.
By: Liz Petrick
Marketing is an ongoing part of any business. Whether you're an independent contractor, a booth renter, or an employee at a large hair salon, marketing is important. Creating a solid marketing plan with the proper materials not only helps you gain new clients but also helps you keep your existing ones so you can continue to build a business that compensates you for your talent.
That's why Associated Hair Professionals (AHP) created Marketing Toolkits. With AHP's Marketing Toolkits, we provide you with a package of easy-to-create customized, branded materials, including:
Appointment Reminder Cards
Gift Certificates
Loyalty Rewards Cards
Postcards
Referral Cards
Social Media Cover Photos
Website
Here are just a few Marketing Toolkit templates that are available to AHP members!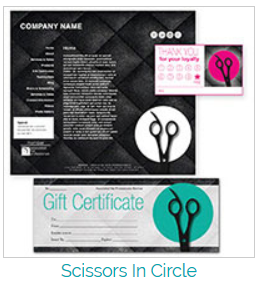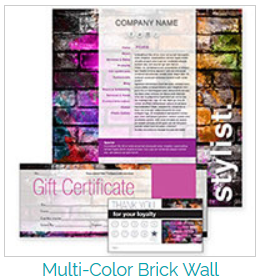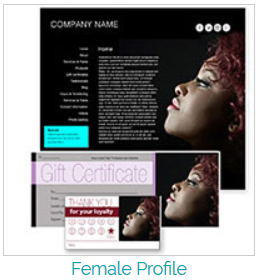 Already an AHP member? Start creating customized, branded marketing here!