By AHP Staff
The creative rut. It can hit when we least expect it.
Remember the movie, Groundhog Day? When you wake up, every day feels the same. Same routine, same clients, same services, same rerun. When you're feeling bored and uninspired at work, it becomes difficult to wake up feeling motivated to face the day ahead with positive energy and a smile.
Every hairdresser or hairstylist can experience a creative block now and then, but the most important thing to remember is that you can't let yourself get stuck in a rut! It's not the easiest thing to pull yourself out, but you won't be giving your best to your clients or your career if you don't.
Luckily, each of the offending culprits have simple solutions to get your creative juices and enthusiasm flowing again.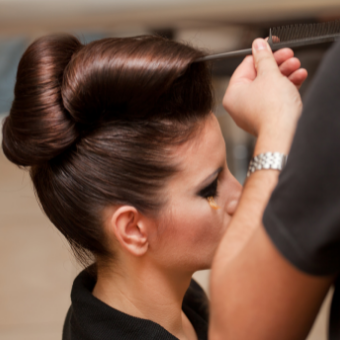 The Forever Client
You have seen this client for so many years, it seems like eons. You love loyal clients, but they want the same cut, color, and style every single appointment. You feel like you could do this service in your sleep, and it holds no opportunity for you to try something new. Be careful. Repetitiveness can bring some consequences for you and your client. When you've done the same service to the same client over and over again, you may not give the top-notch customer service you used to give, and your client senses your loss of enthusiasm. You can potentially lose a loyal client who used to love their appointments with you.
The Simple Solution: Always, always set aside time for a consultation, and to reconnect with that client. Even if you know that client tends to shy away from change, offer subtle suggestions. Maybe it's a tinted glaze rather than full color. Maybe it's styling their bangs off to the side rather than straight down. Even if your client doesn't accept your suggestions, it makes the experience different for you, and your client will appreciate that you're giving them more attention and you care about the outcome of their service. And who knows? Maybe your forever client will surprise you one day and let you really switch it up!
The Latest and Greatest
You attended an amazing class and just learned this new technique. It's new, it's trending, and you want to do all you can to master the technique . . . now! It's a temptation to try to convince every client who walks in your door to try it out. But beware. This new technique might not be right for every client, so don't overlook what is best for them just for the sake of mastering your new-found skill.
The Simple Solution: You will have clients who are completely on board with trying your new technique, but make certain you consult with each client with neutrality. Don't try to sell them on something new if it's not a good fit for them or may not give them the results they want. Practice makes perfect, but only if it makes your client happy.
The Constant Cut
Every hairdresser has experienced those days when you have back-to-back clients, no time for lunch, no time for the creative juices to flow. You tend to go on autopilot and lose focus on the individual client. The Constant Cut may strip your motivation to offer clients something new or suggest something fun and funky. If clients feel they are just another head of hair, they might take their business elsewhere. No one likes to feel they are just another number in the queue.
The Simple Solution: You can turn a hectic day into a fun challenge! Instead of thinking of the seemingly endless number of clients you're going to see, try to think of how many different cuts and colors you can do in one day. One of the main reasons a client leaves their hairdresser is that they feel taken for granted. This means you're not offering any new ideas on styles or colors, and you don't value their business. Even on a busy day, remember to treat your clients the way you would want to be treated.
Leave Home at Home
We all have days when it may be difficult to leave our personal troubles at the salon door. It's hard to put on a cheerful face and let your creative, innovative ideas flow when you have issues at home. But being part of a client-service industry, it's a must. To be blunt, your clients don't come in to hear your stresses and woes. They come in to feel good about themselves. If they have to listen to your personal problems, they'll leave the salon feeling depressed from listening to a list of your griefs. Chances are, they'll find another stylist.
The Simple Solution: If you're feeling blue because of your home situation, there are ways to get back to the right mindset to give your best to your clients. Try going through a mental gratitude list of all that is good in your life. Try some deep breathing or a few minutes of meditation. Take a quick walk and breathe some fresh air. If you have a favorite hair industry expert, listen to an upbeat podcast that can help point your thoughts in a positive direction.
Clone Zone
You are an expert at making yourself look amazing! That's why you're such an awesome hairstylist/barber. You know the exact color, cut, style, beard, or sideburns that look great on you, and you can slay that perfect look. So, why wouldn't all your clients want to look the way you do? You might have the perfect formula for you, but that doesn't mean every client is suited to that look, and it may not be the look what they want.
The Simple Solution: Let's say you have achieved the perfect shade of blonde for your own hair. Maybe most of your clients happen to be blondes. That's great! But you don't want to turn your chair into the "clone zone." Your color may not suit their skin tone. It may not suit their age. Would a cooler-toned blonde look best on your client, or warmer tones? Consider platinum highlights, or subtle low lights as an option. Your clients will appreciate your expertise and attention to detail, and they will end up looking amazing like you do, but not exactly like you. And you'll feel you're still giving individual attention to your clients, not just creating an army of clones.