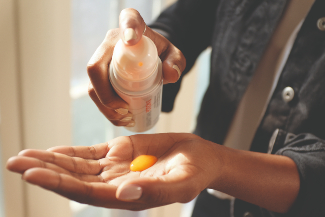 Clients are striving to experience more benefits with fewer beauty products in this challenging economy. In fact, they're starting to view this as an "essential" need: in a new survey1 of 1,000 American women, 48% agreed that they would consider multi-benefit hair products "essential," making Potion 9 particularly relevant right now.

Stylists can recommend the wearable styling cream and leave-in conditioner to clients with all hair types:

• For textured hair: Apply on damp hair, twisting hair around finger to smooth and lock in moisture for manageable styling.
• For straight/wavy hair: Apply on wet hair and blow dry to lock in moisture, delivering silky body without weighing hair down.

Sebastian Professional Top Artist Angel Cardona says, "I'm a big fan of using Potion 9 to prepare the hair, either in the salon or on set, as well as pairing it with one of my favorite products, Dark Oil, to not only add conditioning properties but shine as well."
"I use it to set almost every look because its conditioning properties help with the integrity of the hair, locks in moisture, and provides styling benefits. It's unlike any other product out there," says Sebastian Professional International Stylist Anthony Cole.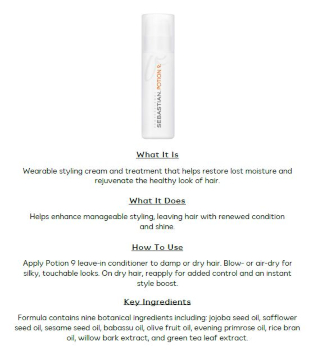 The beloved formula features 9 botanical extracts originally discovered in the Amazon rainforest. The 9 botanical extracts work together to achieve a multi-benefit, transformative formula.

1. Jojoba Oil strengthens hair
2. Safflower Oil helps to maintain the smoothness of your hair
3. Babassu Oil is used to repair hair
4. Olive Oil adds luster and shine to hair
5. Evening Primrose Extract is known to fortify hair
6. Sesame Oil is known to deeply nourish hair
7. Rice Oil is known to protect from damage
8. Green Tea Extract is known to soften hair
9. Willow Bark Extract is known to moisturize hair
1. Results from a nationally representative survey of 1,000 women, which was conducted in mid-September by lifestyle agency DeVries Global and global data and insights firm Dynata.
Are you a licensed hairstylist or barber with something to share with other stylists? We would love to publish your expertise in our blog or AHP Indie Stylist magazine! Reach out to our editor mary@associatedhairprofessionals.com for more information.