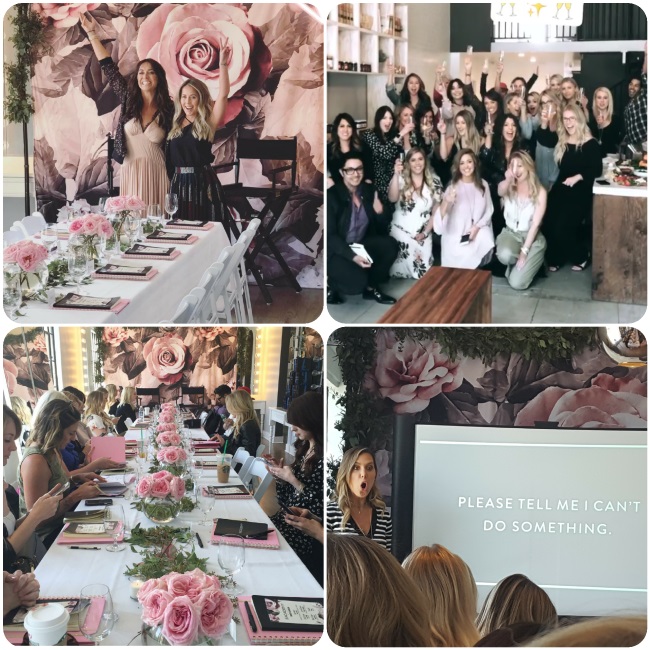 Imagine the most Pinterest-worthy party you possibly can. Now multiply that cuteness factor by 10, infuse it with the love and support of the most ambitious girl bosses you stalk on Instagram, and pour champagne all over the entire affair. I recently attended THAT party.
Nikki Lee and Riawna Capri, owners of Nine Zero One Salon, Academy, and BeautyCoach, threw a luncheon to rival all luncheons for salon owners at their West Hollywood Academy. Girl bosses from across the country (and Canada) flew in to spend the day soaking up motivation, inspiration, education, vindication, emancipation, incredible food, and, naturally, Rosé. We were all in attendance to hear from the gurus—Nikki and Riawna.
Their story is a #HairBestie fairytale. Right down to the salon business's "Plan B": If all else fails, we just move our beds into the attic of the salon and live there. (Don't act like you've never considered a similar Plan B.) Nikki and Riawna spoke of their early days in the industry, bouncing around trying to make a name for themselves while finding a salon home. Nine Zero One opened in the midst of a recession, even after their investor got cold feet and backed out. Nikki and Riawna's message for the salon owners in the room was about fearlessness. Courage opened their business and continues to run it today. These two girl bosses have created something simply magical within the Nine Zero One empire. All of the attendees were given a necklace with a key that says Fearless to commemorate the message. Regardless of where the luncheon attendees hailed from, they could all relate to Nikki and Riawna's genuine, funny, and heart-warming tale. They were—and are—us.
As if it weren't enough to hear from these two powerhouses, they brought in their mentor and friend, Kendra Scott. You know what they say about birds of a feather; well, this flock is strong! We quite literally laughed and cried while Kendra told her story. I can't say enough wonderful things about Kendra, so I'll just stick to the top three things she told us we must do with our businesses.
1. Know where you're playing. What "white space" are you going to fill in the industry, in the market, in your community? If you just do what everyone else is doing, you've already failed. We all have a unique fingerprint, so we can leave a unique mark.
2. Know your core values from the beginning. Surround yourself with people who share those values. Do not allow any "dream stealers" in your circle, only people that will uplift you. Moreover, when it comes to employees, only hire stars with cores that match your own; everything else can be taught.
3. Be innovative. Don't be afraid to do something different. Think of what everyone else is doing and go outside the box and against the grain. Mix things up and be disruptive. Good customer service isn't enough; you must WOW people.
The salon owners in the room who were hesitant to expand their horizons or jump in with both feet felt empowered to do so. The attendees on the brink of calling it a day and throwing in the towel suddenly saw light at the end of the tunnel and didn't want to give up. Those wading in mediocrity suddenly couldn't wait to go home to resume swimming toward fabulous.
Nikki, Riawna, and Kendra had the ability to make us all fearless. It was a day I won't soon forget, and I'm certain none of the salon owners in attendance will either. Our industry needs more girl bosses like Nikki Lee and Riawna Capri. We are fortunate to have such lovely souls willing to share and uplift the rest of us. As Kendra's stepdad told her, "You do good."
XX,
Ali Davidson
AHP Director of Membership