By Redken
Keep the toasts coming in the new year with Redken's newly announced hair color of the Year for 2023: Champagne Blonde with a Kiss of Rose. While various shades of blonde have been trending in the last few years, stylists, influencers, and celebrities have started to "warm up" the hue for a softer and more natural look that is flattering on all hair types, textures, and skin tones. Redken is leading the charge in making it easier than ever to go "Champagne Blonde" by expanding its best-selling Shades EQ collection.
With over 60,000 hashtag mentions and a 60 percent increase in searches, champagne blonde is an emerging hair-color trend. Requested to stylists by celebs and influencers, the champagne blonde hair color is taking over social media feeds. To achieve this champagne trend in the past, stylists had to mix multiple shades together to create a custom color for their clients. Now, Redken has taken the guesswork out of the mixing process by introducing their new Shades EQ Gloss Bonder Inside Gold Rose Family. The three new gold rose shades allow stylists to easily create a custom champagne blonde color, called "Champagne Blonde with a Kiss of Rose." Formulated with the perfect blend of gold and subtle rose reflects, the gold rose family shades elevate the champagne hair-color trend by creating luminous and reflective blonde shades with a twist.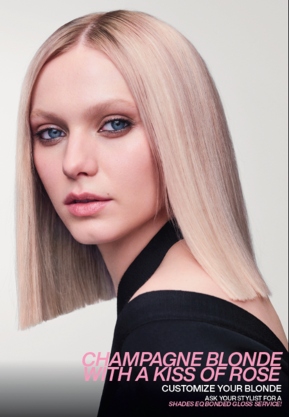 The gold rose shades offer a unique, modern blonde finish that is wearable for all hair types, textures, and skin tones. "Champagne Blonde with A Kiss of Rose" is a perfect golden shade, with very subtle hints of rose. Redken's Shades EQ Bonder Inside Gold Rose Family features three new shades: Sparkling Wine (010GRo), Blush Spritz (09GRo) and Golden Fizz (07GRo). The gold tonal breakdown of these shades provides warmth without brass and enhances vibrancy. The rose tonal breakdown is calibrated to natural undertones at each level and provides a subtle rose reflection.  
"'Champagne Blonde with a Kiss of Rose' is the perfect blend of gold and added soft rose tones," explains Matt Rez, Redken Brand Ambassador and Celebrity Colorist. "It is a soft, neutral color, with a strong emphasis on shine, that resembles a glass of your favorite sparkling drink. It's a blonde that looks good on everyone!"
The gold rose family is the newest addition to the long-standing Redken Shades EQ collection, beloved by both professionals and consumers. The success of Redken's Shades EQ Gloss Bonder Inside is primarily driven by blonding and bonding—the gloss helps repair weak bonds that are more vulnerable to breakage.
Backed by science and prescribed by pros, the innovative formula of Shades EQ Gloss Bonder Inside tones and repairs in one step* and is equipped with a triple acid complex of citric acid, taurine and erythorbic acid. In just 20 minutes, a Shades EQ Gloss Bonder Inside service leaves hair looking and feeling healthier. Consumers will notice intense shine, conditioning, and long-lasting color results. In fact, the blonder they go, the more protection the Shades EQ Gloss Bonder Inside provides, which is perfect for anyone looking to try out the hair color of the year with the new gold rose shades. As a demi-permanent hair color, results last 4–6 weeks, making Shades EQ the ideal service to experiment with a new shade.
*vs. without Shades EQ Gloss Bonder Inside
ABOUT REDKEN 5th AVENUE NYC
For over 60 years, Redken has been a leader in the professional salon industry, empowering professionals and consumers to achieve healthy hair transformations with confidence. Founded by Paula Kent, a woman who believed in the power of science, Redken was the first company to take a scientific approach to hair, defined as the right balance of protein, moisture and supported by an acidic pH, which remains the alpha and omega of haircare to this very day. All Redken products are made with the highest quality ingredients, and tested by salon professionals to ensure maximum efficacy, for every hair type and texture and every hair need. Based in New York City, Redken supports the expertise of salon professionals with principle-based education, cutting-edge technologies rooted in protein-science, and a portfolio of products including Shades EQ—the #1 demi-permanent hair color on the market – for maximum versatility and flexibility for clients of all hair types and hair textures.
To learn more, visit Redken.com or Instagram.com/Redken.