Incredible woman and industry leader, Jenny Strebe (@theconfessionsofahairstylist) started a movement yesterday and we're ALL about it! She's asking all of us to pledge to use our influence (whether you're a social media big shot or hometown hair professional) only for positive, encouraging us all to share love instead of negativity. More than 3,500 people have taken the pledge in just one day, sharing the hashtag #PositiveInfluencer with heart-warming stories about what being a positive role model means to them. Even Tabatha Coffey took the pledge, sharing a touching personal story and following it up with, "Thank you to @theconfessionsofahairstylist for starting the pledge of #positiveinfluencer because being positive is a choice and it opens us up to the infinite possibilities within us." We couldn't agree more!
Jenny's Instagram post that started it all, with all of the details: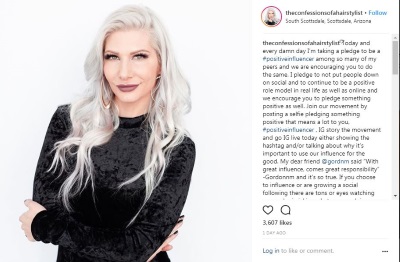 Today—and every day—many of my peers and I are taking a pledge to be a #positiveinfluencer, and we encourage you to do the same. I pledge to not put people down on social and to continue to be a positive role model in real life as well as online, and we encourage you to pledge something positive as well. Join our movement by posting a selfie pledging something positive that means a lot to you as a #positiveinfluencer , IG story the movement, and go IG live today either showing the hashtag and/or talking about why it's important to use our influence for the good. My dear friend @gordnm said "With great influence, comes great responsibility," and it's so true. If you choose to influence, or are growing a social following, there are tons of eyes watching you and mimicking what you are doing. Let's spread the love and not the hate. I encourage you all to take the pledge today!