Up the shag trend with vivid color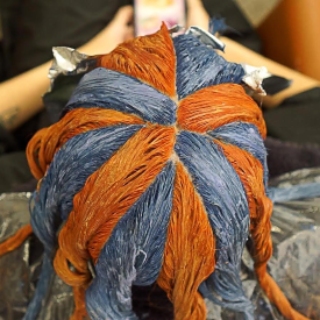 by Natalie Simoes and Alexadra Soderberg

The 1970s have made a strong comeback with the shag, curtain bangs, and yes, a middle part. When you color this style in a peach-and-blue pinwheel pattern and add in some white mascara, your client will be ready for the roller disco every day!

We collaborated to create this fun color and style. We're both blonde specialists working at Phan Haus in Scottsdale, Arizona. Playing with vivid colors and unique placements helps us take our art to the next level.
THE FORMULA
Igora Royal Permanent Color:
Formula A: Peach Coral
50g 9.5-18, 30g 0-77, 22g 11-89, 6g 0-88

Formula B: Blue
53g 9.5-29, 10g 0-22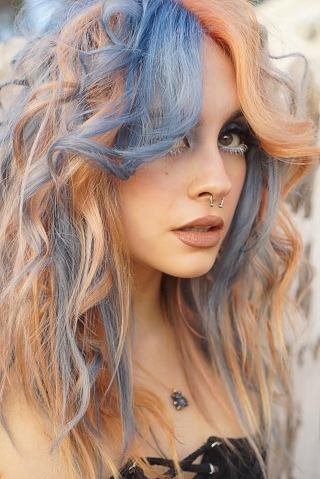 THE TECHNIQUE
Step 1
On prelightened damp hair, section hair into a pinwheel
parting. Begin with a middle parting from hairline to nape, then
part from the apex to behind each ear, creating four pie sections.
Within each pie section create three 1-inch vertical subsections,
resulting in 12 pie sections when looking at the top of the head.
Step 2
Apply Formula A and B on alternating pie sections around the
head.
Step 3
Process for 30 minutes. Rinse with cold water and apply
conditioner only.
Step 4
To style, apply a heat protectant and volumizing product. Blow-
dry on a cool setting to protect the color. Once dry, flat iron
fringe outward and away from the face to accentuate the curtain
fringe. Next, curl alternating sections with a 1-inch curling iron
to create loose curls. Finally, use a ³⁄8-inch curling iron to create
some randomly placed tighter curls and leave some sections
straight. This will create a voluminous, textured look.

AHP Indie Stylist is AHP's bimonthly publication, created to speak directly to you, the independent hair stylist and barber. In this issue:
► Shay's Secrets
Hairdresser Shay Dempsey shares from his expertise
► Ready for the Runway
Modern braided ponytail how-to
► Follow the Leaders
Pursuing influencer and mentor relationships
► Pinwheel Color
Up the shag trend with vivid color
Are you a licensed hairstylist or barber with something to share with other stylists? We would love to publish your expertise! Reach out to our editor mary@associatedhairprofessionals.com for more information.