By AHP Staff
Do you find that you're attracting new clients every month, but very few of them are rebooking before they leave your salon or returning for services? Are you spending time, energy, and money every month on promotions and incentives to continuously bring in new traffic?
If this is the case, you may be a one-hit wonder. Do you wonder why clients aren't coming back for a repeat cut and color? Do you find yourself questioning your skills and talents as a hairdresser or barber? Chances are, it has nothing to do with the haircut or shave you gave the client. More than likely, it stems from a customer service problem. In a poll from Harris Interactive, 86 percent of respondents said they would stop patronizing a business because of just one bad customer service experience.¹ A single bad review can hurt you, and unfortunately, folks are far more likely to complain publicly about a poor experience than to write a glowing review. You may have heard the saying, "If a client had a great experience, they'll tell one person. If they have a bad experience, they'll tell 10!"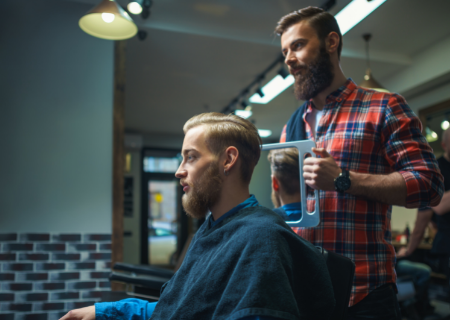 This means you only have one chance to turn a new client into a loyal client. Why should you care? There are two very good reasons you should care about client retention. The Harris poll also indicated that clients would pay up to 25 percent more for a great customer service experience, which helps your bottom line in a competitive salon market. And the cost of attracting one new client is 6–7 times more expensive than your cost to retain that client, not to mention the amount of time and energy you'll save yourself.
Every client you retain can offer a lifetime of value to you and your business. Loyal clients are also more likely to refer you to their friends and coworkers, purchase more retail from you, and post great reviews. Every hairdresser and barber should consider that a happy client is a walking billboard for your services.
Consider this experience:
Your client was going on a last-minute trip, and your schedule was completely booked. There was no way you could squeeze her in for a cut and color. She tried another local salon out of desperation. When you saw her a few weeks later, you asked how her visit to the other salon had gone. She swore she'd never go back. Here are the reasons she gave you:
Clients with confirmed appointments had to wait while they squeezed her in for her service.

No water or other refreshments were offered before or after the service.

In the middle of the service, the stylist left to take a phone call.

No home-care recommendations were made.

A 20 percent tip was automatically added to her bill.
The client said that the actual cut and color were good, but her first impression was that there was a complete lack of good customer service. If you read online reviews of hairstylists, you will see these types of complaints repeated again and again when they could be so easily remedied with a few client retention strategies. 
Track Client Retention Numbers
You should start tracking client retention from the first visit. The numbers don't lie; they will tell you a story about how well you are doing with first-time clients. If you have salon software, it should be able to easily calculate how well you are doing with client retention.
Start With a Specific Time Period
You might look back over the last six months. Determine how many new clients you had during that time and if they returned within a three-month time period. This three-month period will allow you to capture the client who only comes in occasionally—or show you those who haven't returned. Of course, the goal is a high client retention rate for first-time clients, which indicates a high level of customer satisfaction.
Ask Customers Why They Didn't Return
After you crunch the numbers and find that your client retention rate leaves a lot to be desired, you need to learn why those clients never returned. Don't be afraid to pick up the phone and ask them! Ask them what it was about their experience that made them not want to come back, then commit to making some changes accordingly. Comfort, cleanliness, and scheduling are the three most common areas of complaints seen on review sites.
Be Committed to Client Retention
Take a look at the services those first-time clients received. Look at the day and time of their appointments. Maybe you overslept and were disorganized for their morning appointment. Or, it was late afternoon, and you were tired and not feeling well. Maybe you had scheduling issues, and they had to wait longer than they should have. From this moment on, commit to giving every client five-star service without exception. Read your online reviews every few days and respond not only to the positive reviews, but also address any that are not five stars. When responding to negative reviews, be professional, address the issues, and offer to make their next experience better.
Create a New Client Welcome Offer
Creating a new-client welcome offer can be effective in building a loyal following and client retention. This can be especially effective if the client initially responded to a daily deal or promotion. Give them a certificate for a discount on their next service to let them know they are important to you, and you'd like to see them again. Send a handwritten thank-you note to new clients after the service to make them feel even more appreciated.
Making customer service equally as important as the quality haircut you give can keep you from having "one and done" clients. Even a small increase in client retention can make a big difference in your bottom line!
Notes
1. Oracle, "2011 Customer Experience Impact Report," conducted by Harris Interactive, www.oracle.com/us/products/applications/cust-exp-impact-report-epss-1560...