How do you start looking for your first job as a hairstylist?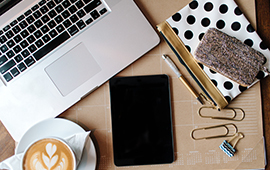 First of all, don't wait until you graduate from your cosmetology program! The contacts you make now can be important later. Take every opportunity to meet new people and maintain your relationships with those you already know. Everyone is a potential client, or somebody who knows a potential client. The same goes for potential employers.
Personal recommendations are gold. Make the right impression, and form contacts from the very beginning of your training.
All networking avenues, including job boards, should be included in a job search. However, be aware that most employers won't call you back to acknowledge your application unless they have an opening and are interested in interviewing you. Be patient when waiting for callbacks.
A website can showcase your work and experience beautifully. If you don't have a professional website yet, you can create one for free using the AHP Website Builder, which is included in professional and student memberships with pre-loaded content, images, and design templates to choose from. But word of caution: make sure you do not have any unprofessional content visible to the public on Facebook, Instagram, Twitter, or other social networking sites. Those are the first places employers are going to do their research on you.
Membership in a professional association can help you stand out and connect with others in the field. Look for networking websites and forums, too.
What can you mention on a resume to make an employer take notice? Besides your training, these are the most important skills:
Retail sales
Customer service
Communicating/being a "people person"
Don't just list these on their own, but give specific examples of how you have used each of them in other jobs, at school, or in your life. Employers look for these three skills, so if you're good at them, say so! They're still a real advantage, even if you used them in a completely different job.