When you're over having a bold fashion color or even Elsa blonde, it can be tempting to just throw some box color brown over it.
Price check on aisle five!
Note: that box isn't worth more than the complimentary plastic gloves inside.
Step away from the box.
There's a lot more involved in going back to your natural hair color—no matter what that is—than what appears on the surface. If you want natural-looking hair color, it's a job for your hair professional.
Here's a glimpse at what the process ahead may look like for you, demonstrated in this incredible makeover by hairstylist Whitney Vaughn of Kelso, Washington. She specializes in blondes and creative color but loves to challenge herself with color transformations like this one.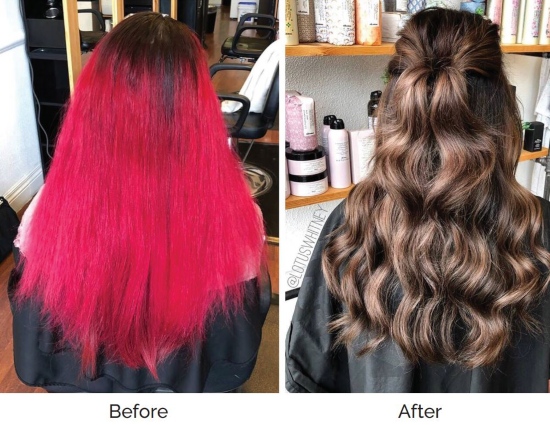 "My guest wanted to go back to her 'natural' color (but cover any gray hairs) and she wanted some lighter dimension so that it wasn't a solid color. I started by removing the red, which took two rounds of color remover, both processed at the maximum length of time (30 minutes). Then, after washing and drying her hair, I applied the base color that best matched her natural color. I began at her scalp and feathered it down into the balayage pattern I wanted while using meche sheets to keep the hair separated. Once that color was done processing, I rinsed it out and applied a toner to the rest of the hair while it was still wet. I let it process for about 10–15 minutes until I achieved the desired tone. Finally, I finished with a cut and style. The transformation took about eight hours total."


Article by Whitney Vaughn
IG: @whitneymarie_beauty
This article appears in Volume 3, Issue 1 of AHP Beauty Sense magazine, available at:
https://beautysense.associatedhairprofessionals.com/i/1116298-volume-3-issue-1/7?

AHP Beauty Sense is a magazine created by Associated Hair Professionals for consumers featuring advice on hair care, hairstyling, and beauty written by the real professionals—licensed hairstylists and barbers.
Are you a licensed hairstylist or barber with something to tell clients about our industry? We would love to publish your expertise! Reach out to our editor ali@associatedhairprofessionals.com for more information.