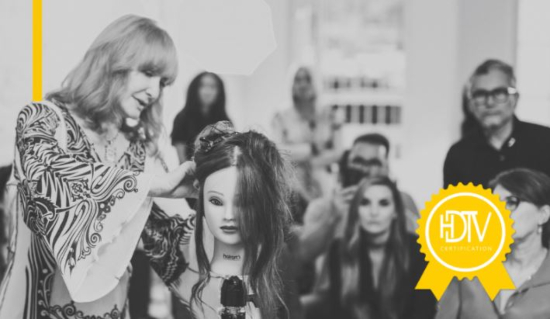 Vivienne Mackinder's ultimate online video training platform for hairstylists

Vivienne Mackinder is a master stylist who has trained some of the most iconic hairdressers in the industry. During her extensive career, she has created training systems for both Vidal Sassoon and Trevor Sorbie in London. She has also developed training systems for major manufacturers, salon chains, and solo salons around the world.

Many of Vivienne's former students have gone on to become icons in the hair industry, including Mark Hayes, creative director of Sassoon; Steven Moody, educational director at Wella; Antoinette Beenders, creative director of Aveda; Ruth Roche, artistic team member for Redken; and Damien Carney, creative director for Schwarzkopf, just to name a few.

Now she brings her education directly to you through Hair Designer TV. While most of the hair education today focuses on rushed tutorials of popular trends, Hair Designer TV is a complete training platform that contains everything you need to grow as a stylist from wherever you are in your career. Vivienne's teaching style is thorough and easy to understand as she guides you through every detail of what you need to know to be your best.

As a member of Hair Designer TV, you can expect to:
Master Your Craft: Learn from top professionals in the hair industry to refine and expand your skill set.
Grow Your Client Base: Learn the best business strategies to bring in new clients efficiently and effectively.
Improve Client Retention: Learn how to improve your "wow" factor and keep your clients coming back.
Motivate Your Staff: Salon owners will learn how to improve team members' work performance and improve salon morale.

As an AHP member, you will receive a 10% discount on these training programs from Hair Designer TV:
The Designer Program: A self-paced, in-depth course that builds the foundation to mastery for any level of stylist. It runs seven months to a year and is divided in to five sections.
One Girl, Seven Looks: A master haircutting program that journeys through seven haircuts, from long to short, designed to sharpen your skills and shorten your haircut time.
Who is Sitting in Your Chair? A soft-skills program in which Vivienne guides you step by step through her certified consultation program. Learn how to design for your client's lifestyle, personality, and face shape with more than 20 exclusive video tutorials.
Hair Heroes Series: Vivienne sits down with fellow hair masters. Hear their stories and follow along as they teach technical skills.
Color Series Live: Learn color theory and techniques from color masters. You can watch live or view later.

Click here for your discount code!