When we think about men coming into the barber shop or salon, we know a great experience is part of the good customer service we provide with the hope we can retain them. But is that really enough?
Before you start blaming it on the fact that you're a female, that excuse is old and tired and just plain false. According to the Priority Male Study conducted by Modern Salon, 30 percent of the men surveyed actually prefer to have their hair cut by a female and 43 percent have no preference at all. In fact, when a man is choosing where to get his hair cut, the convenience of the location is the number-one factor. If he comes into your salon, you're probably convenient. So, why isn't he coming back?
What have you done that proves you want him to come back? Sure, you made him comfortable entering your salon or barbershop and maybe you even went out of your way to offer a local brew and a bit of sports talk or something else stereotypically "manly" during his haircut. Gold star for you, but every other stylist and barber trying to pull in male clientele has checked those boxes as well. That's not how you prove to a male client that you want his return business.
News flash: 72 percent of the men in the Priority Male Study cared more about getting a good haircut than the experience; 78 percent said it is harder to find a good cut than find good customer service. You can be that haircut provider they're searching for. What have you done to improve your haircuts? With the male demographic, it is your craft that will keep your client. Plain and simple, men just want a good haircut.
When was the last time you attended some real male-focused advanced education? Or attended a trade show to learn more about tools and products that cater to men? There are a lot of barbering classes and techniques available both online and off. Practice on friends, family, and mannequins. You know all those exercises you performed to become a proficient colorist, up-do specialist, or texture artist? You need to devote the same effort to master barbering.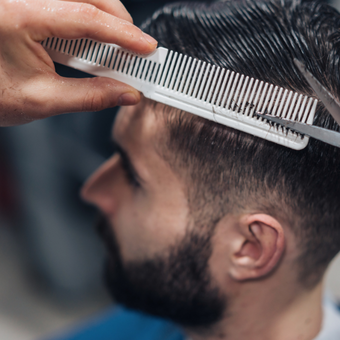 The trickier part is deciphering what qualifies a "good haircut" for your male client. It's a personal preference with no single answer, but certainly you want to make sure you have honed the techniques necessary for creating any requested style, stick to the client's desired length, ensure that the hairstyle fits the client's features, and master the art of blending. A class specific to consultations would elevate your ability to give your male clients exactly what they want just by knowing the right questions to ask and key words to listen for. As with any client, communication is critical. With the male market, communication can be trickier but even more crucial as they are more invested in the haircut than the experience. I have always said in any service we provide—consultation is key. Repeating back what we have heard, showing with our hands and tools exactly where the length, part, or fading should be. Think of it as if you were to sit in a chair and get your hair done. Wouldn't you want someone to show you what the stylist is explaining so you're both on the same page? As new trends and styles for men are seeping into the hair world, its not just a finger length on top and #2 blended in. They know what they want and are hoping you can fill that void to get the job done right.
It isn't fair to expect men to invest in your professional craft if you haven't done anything to hone your craft for them. If you can master your craft, a male will be quicker to say where he got his haircut that a female will. The best thing you can do is educate yourself so you can not only build your male clientele, but also retain them by giving them what they're into—a good haircut.
For more useful tools to help advance your career and knowledge, join AHP. We have education at your fingertips with our video library, AHP Indie Stylist magazine, blogs, and more at www.associatedhairprofessionals.com 
Not a member? Join today and get access to all the benefits we offer to support you and your career as a barber or cosmetologist.
At AHP, We Are All About YOU!