The benefits of offering hair extensions
Article by Angie Gilmore
This article appears in Volume 1, Issue 3 of AHP Indie Stylist magazine

Knowing how to apply professional hair extensions will only account for 15 percent of your financial success. In contrast, 85 percent of your success will be determined by your ability to control your average service ticket, average retail ticket, and prebooking percentage; all of which ultimately affect your overall productivity and revenue. Professional hair extensions can amplify color, volumize, and shape; provide more coverage; and even correct bad haircuts.

In the salon industry, there is no other tool that can create these results.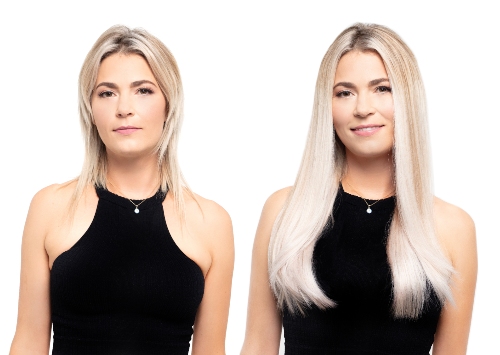 Not only do professional hair extensions change the lives of the women who need them most, they also change the life of the salon professional. By offering this service and putting the correct repeatable processes in place, salon professionals will be able to learn more, which equates to earning more without spending more time behind the chair. An increase in extension sales affects service dollars and results in greater frequency of visits, which in turn boosts retail sales and client retention. Everything is connected.

There are 40 million women in the US suffering from hair loss, and 10 million of them are under the age of 40. This means 25 percent of your current clients want a solution and are yearning for your professional advice as a hairdresser. Offering your clients traditional services such as haircuts and color may not be enough to ensure they not only look and feel their best but also stay in your chair. If you want a client for life, then you need to offer solutions that are different from traditional salon services.

Read more about easihair pro's dedication to education and how they can help you up your game behind the chair!

AHP Indie Stylist is AHP's bimonthly publication, created to speak directly to you, the independent hair stylist and barber. In this issue:
Are you a licensed hairstylist or barber with something to share with other stylists? We would love to publish your expertise! Reach out to our editor mary@associatedhairprofessionals.com for more information.