Master hairstylist Julie Vriesinga talks about life as an award-winning hairstylist.
Article By Mary Barthelme Abel
This article appears in Volume 1, Issue 2 of AHP Indie Stylist magazine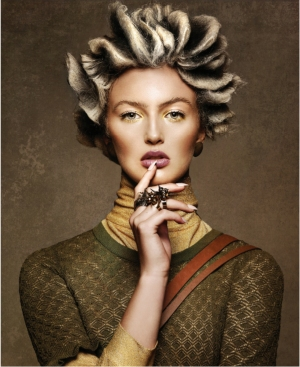 Meet Julie Vriesinga, an award-winning hairstylist who lives and works in Ontario, Canada. This issue's cover stylist talks about creativity, competition, and why hairstylists should always be moving forward.

WHAT MADE YOU DECIDE TO BECOME A HAIRSTYLIST?
I have always been a creative person inspired by the beauty and fashion industries. I grew up in a very small town outside of London, Ontario, and I have been very fortunate to pursue my career at Salon Entrenous.
My interest in hairstyling began early. I was 15 when I was asked by my own hairdresser to work at his salon washing hair and cleaning up around the salon on the evenings and weekends. I learned so much in those couple of years. When I think back, I also grew up in a house with a mom who always wanted to be a hairdresser. She would cut and perm hair in our kitchen for family members. I think the seed was planted early without me even realizing it.

WHAT IS THE INSPIRATION BEHIND THE COVER IMAGE?
This collection was something I did to challenge myself to create something a little softer but with the same impact I feel from the very dark, moody vibes I usually love to shoot.
I wanted to create a vintage feeling with the brown sepia tones that mimic an old photograph or a portrait painting while creating modern fashion and hairstyles.

YOU'VE WON SEVERAL MAJOR HAIRSTYLING AWARDS. WHAT'S THAT LIKE?

AHP Indie Stylist is AHP's bimonthly publication, created to speak directly to you, the independent hair stylist and barber. In this issue:
The Joy of Creation
Finding Your Niche
New Products & Tools
Hot Nail Trends

Are you a licensed hairstylist or barber with something to share with other stylists? We would love to publish your expertise! Reach out to our editor mary@associatedhairprofessionals.com for more information.