Luxury Brand Partners Hosts Third Annual Social Media Conference –
Idealogue: Social Currency
The two-day event brings together top digital minds, including best-selling author Seth Godin, and focuses on driving economic and personal growth in the digital world
Luxury Brand Partners (LBP) is excited to announce Idealogue: Social Currency—a cutting-edge event featuring panel discussions and TED-style talks designed to help stylists thrive in a rapidly changing industry. Idealogue 2017 will take place on September 24-25 at New York City's Metropolitan West with 600 leading salon owners, independent stylists and digital gurus expected to attend.
Associated Hair Professionals will be in attendance. Let us know in the comments if you'll be there; we'd love to say, "Hi!"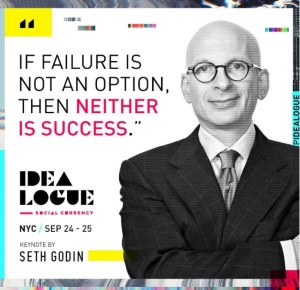 Idealogue has grown into a full-fledged immersive experience with highly sought-after authorities speaking to the shifting landscape of the salon world and the radical change in how salons and stylists communicate with their clientele. The event will open with a keynote speech and Q&A session from 18-time worldwide best-selling author and change agent, Seth Godin (@sethgodin), who will be speaking to the importance of standing above the "noise" and taking the time to solidify brand purpose on social media.
"Let's talk about more than cutting hair," said Seth Godin. "We can make connections, change people, build a community and do work that matters."
Speakers confirmed to-date from an array of industries include:

Seth Godin (@sethgodin), best-selling author of 18 books including Linchpin, Tribes, The Dip and Purple Cow
Deepica Mutyala (@deepicam), on-air beauty expert, Today Show tastemaker and YouTube personality
Bora Chow (@boraboratheexplora), Luxury Partnerships Lead at Facebook/Instagram, former Vogue editor whose parents are salon owners
Jenny Strebe (@theconfessionsofahairstylist), educator, author, curator of @theconfessionsofahairstylist
Jamie Dana (@jamiedanahairstylist), hair blogger who teaches social media for businesses
Jeff Arbour (@jeffarbour), co-founder of Chameleon Collective, a team of entrepreneurs and change makers who help build great companies
Gordon Miller (@gordnm), CEO, Hairbrained
Julius Caesar (@juliuscaesar) L.A. barber, Wahl education and artistic team member
Lisa Loves Balayage (@lisalovesbalayage), color theory expert and creator of Balayage Boot Camp
Maggie Mulhern (@maggiemulhern), Beauty & Fashion Director at Modern Salon
Johnny Wright (@johnnywright220), educator and celebrity hairstylist to Michelle Obama
Frankie Greek (@grankiefreek), Snapchat creator, social journalist and digital host at Uproxx Media
Victor Valverde (victorval), senior hairstylist, salon guru and business consultant