Have you ever ended your day at the shop wondering how you fell behind on your timing with your clients? You start wrapping up for the day and just think huh…what could I have done better or what did I do at what point to make myself fall behind?
Working smarter not harder behind the chair is probably one of the most important things we can learn as a licensed beauty professional. Whether you are a barber or stylist, it is important to understand how you can use your time wisely so you can work more efficiently.
To increase our efficiency, we should not be cutting corners with our clients' service. Everything you do to be more efficient behind the chair should add to the value of the service you provide—after all, we are in the service industry.
For example, if I rush an eyebrow wax and do not thoroughly clean the wax residue off the client's face, I may have saved myself a few minutes by cutting a corner, but ultimately the service was not adequately completed, so this will actually hurt me down the road when I'm trying to build my books and my retention rate is terrible because of my rushed, incomplete service.
On the other hand, if I arrive 15–20 minutes before my client and have my wax station prepped with cleaners, cotton pads, and everything else I need ready to go at my fingertips, my client won't have residue on their face and will feel good about their unrushed, complete service. This will ultimately result in the retention of that client as they immediately rebook to see me again in four weeks. That's a win/win situation!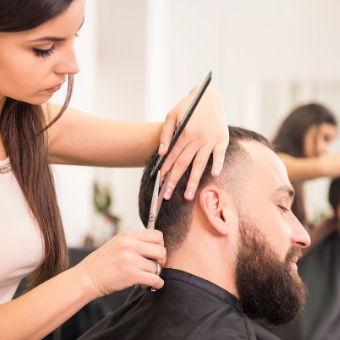 Using social media often and consistently is one of the most effective ways to connect with existing clients and help build a bigger clientele. There are apps you can use to schedule posts across various channels, so while you are having a busy day making people feel beautiful, these apps can automatically post updates and photos for you, so you are continuously making your business visible even when you are behind the chair working. This will ultimately save you time on marketing and can help create more traffic into your salon or barbershop.
About now you're probably thinking, "Great, I'm being efficient for my clients' schedules, but what's in it for me? How do I save my time?" Fair questions.
By saving your clients' time and adding value to their service, you are saving your own time in other areas. You are saving some of the necessary time spent working on growing your business.
When a client feels they have received the most bang for their buck—they had a value-packed, efficient service instead of one that was rushed and cut corners—they are well on their way to becoming your most loyal fan and marketing tool. You are saving time on marketing and retention. You can't out-market a bad service or force someone to come back if they had a bad experience. And who would even want to try?
And let's not mention skimping on a service that can ultimately result in getting sued. Let's say you decide to pop your client under a heat lamp with a scalp bleach because you want to increase processing time and didn't monitor it closely enough—ending up with fried hair, a chemical burn, and an upset client . . . you will be held liable for that one.
Beauty professionals should not skimp on service to become more efficient. They should become more efficient by working smarter, not harder on their business. Save time by using your network for cross-promotion and client sharing. Partner with other businesses for events and joint public relations efforts. Take advantage of online schedulers with automated appointment reminders and survey follow-ups. There are countless tactics, tools, and services to ensure you receive maximum benefit from minimal effort when working on your business.
Work with other people, including your clients, to help build your business and take it to the next level. Don't cut corners in your service. Delegate work that goes on your business, not in it, and you'll be much more efficiently successful.