You walk into a room full of people you do not know and look around. There it is in all its terrifying glory: a networking event. People everywhere. Chatting. Exchanging business cards. Smiling. Laughing. Acting curious about each other's businesses. Striking up pre-rehearsed conversation starters. You feel like throwing up and running away as fast as you can, but you take a deep breath, square your shoulders, and walk up to the check-in table.
Does this scenario cause you anxiety? Welcome to the club. You're just like the overwhelming majority of beauty pros who would rather endure a root canal than a networking event.
To many of us, networking feels pushy and salesy. But it doesn't have to be that way. Networking can be natural, easy, and even fun! A change in perspective can make networking a more pleasant experience and, of course, help your business grow.
Networking is not making dumb small talk with as many people as possible. It's not about pushing a bunch of business cards into people's hands. It's not selling yourself to total strangers. Networking is the act of connecting. Resist the urge to make it complicated. Or salesy.
To be a great networker, we want to look for opportunities to make useful connections between people. This can start at a trade show, at a restaurant, in a grocery store, walking into a beauty supply store and striking up a conversation about color techniques or even formulations. That is considered networking! You are networking every day without even realizing it. Our clients are bankers, plumbers, auto mechanics, painters, landscapers, and other various types of jobs. When your client says she needs her lawn cut because she can no longer care for it herself and you mention your landscaper client, you just networked! A client of yours just got engaged and is looking for a photographer, you mention the photographer you have been servicing for the past 5 years, yup you named it, you just networked again!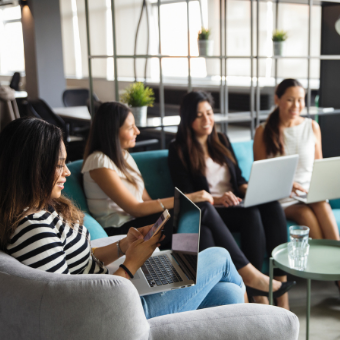 Once you think of networking this way, it becomes less stressful and more like striking up a conversation that comes naturally.
Networking is not all about you. Well, this is kind of true. It's ultimately about you and growing your business. But this is not the initial approach. You help yourself by being helpful to others. Not in a manipulative way, but by getting a little savvier and more structured about the connecting you already do every day.
When most people go to a networking event or are in a networking situation, they concentrate on how to get business from it, interacting with as many people as possible, or worry about doing it wrong. When you flip your focus to helping others, or acting naturally everything changes. Think about making connections that will benefit others, not just yourself. Who can you introduce to start a valuable business relationship? Who needs to meet your CPA? Your baker? Your chiropractor? That photographer?
Take some pressure off yourself and don't worry about getting business from networking. That may sound dumb because what's the point of networking if you don't get business from it, right?
You don't need to have an elevator pitch either. Keep your conversation simple and natural.
People get hung up on the perfect elevator pitch aka introduction. They want to say something like, "I'm Liz! I'm a hairstylist who specializes in balayage and men's fades. I work at Mane Street on 26th and Main." You aren't spewing your resume to a total stranger and how awkward that may seem.
Keep it simple with something like, "I'm Liz, licensed cosmetologist for 10 years. Your hair is beautiful, and I love your color, really compliments your skin tone! Who does your color?" Now you've started a conversation. No matter what the other person answers with, you have a chance to talk about hair and why they should come see you in a conversational way rather than just spitting out a recited pitch.
Remember that everyone is awkward. And others probably have the same mindset as you when they initially walked in. At least half the people in the room are afraid of tripping, spilling their beverage. Or reciting their elevator pitch in their head.
If you find yourself at a networking event, look for people who need a friend and swoop in to save them from boredom. I like to find someone who is also sticking close to the wall, avoiding the fray. I walk over and say, "This looks like the perfect place to people-watch. May I join you and attempt some awkward networking conversation?"
You could also try the traditional approach. Introduce yourself, shake hands, and say something like, "I'm not great at networking events. Any advice for me?" This breaks the ice and starts a conversation. Or just ask them about their day.
Always have an exit plan. In networking, there's nothing worse than being cornered by someone who wants to tell you their life story and will not stop talking. The dreaded 45-minute conversation of them telling you about their resume from the day they turned 16.
One of the easiest ways to extract yourself from this situation is to act like you're doing the other person a favor. Try saying, "Well, I don't want to keep you from meeting more people. It was great talking to you!" It can be as simple as that. Being up front and direct is better than faking it.
Never forget, make networking a habit. It doesn't have to be in just a formal setting and events specifically for networking, we can do it at any place, anytime and with anyone.
As you get into a networking mindset, it will become easier. The more connections you make and the more you help people, the more you will attract business of your own.
AHP is here to help you get started in the right direction to help grow and expand your business.