Sometimes it is the simple things that bring so much joy – like learning how to create easy beach waves with a flat iron! Sam Villa Ambassador Karla Valenzuela (@kolor.me.karlaa) says the key to undone beach waves is very light tension and a technique that massages the curl in.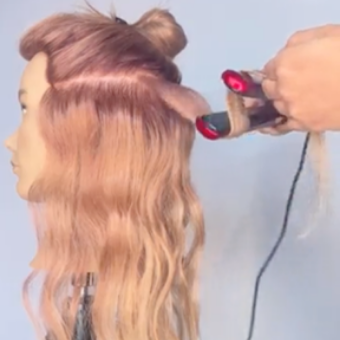 Insert a Sam Villa Signature Series Sleekr Professional Straightening Iron under the section, compress hair and massage it down and under while gently holding ends for a count of three. Remove iron while still holding ends.
Insert iron into the dip of the section directly after the part that was just curled, this time compress hair and massage it in the opposite direction, up and away, for a count of three.
Repeat the process rotating back and forth to the ends (making sure to keep light tension to not pull out the curl pattern). At the ends, close the iron and pull all the way through.
Looking for more great inspiration from AHP?
AHP Indie Stylist magazine is a digital publication created to speak directly to you, the independent hair stylist and barber.
In every issue of AHP Indie Stylist magazine:
The Feed: A curated list of industry influencers
The Buy: The scoop on new professional retail products
The Spark: Inspiring stories of perseverance
The Rules: Expert tips and advice for running an independent business
Plus: Profiles of top stylists, styling techniques, trends, and so much more