7 ways to connect with clients and keep them coming back
by Karrie Osborn

Customer service is not just being friendly. It's really about creating an experience that makes the client want to return again and again. How can you make sure your clients always feel special? Here are some simple customer service tips you can apply to your business today.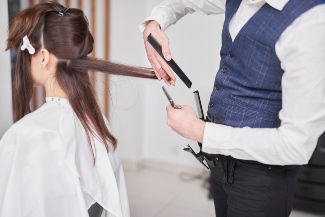 1. Personalize Your Work If you can't deliver more than a cookie-cutter haircut, then your value to the client is questionable. Through the consultation, you should quickly be able to devise a service plan that will address what each client wants and what will work best to tailor the style to their needs.

2. Hear the Client To be able to do #1, you must really listen to your client. Don't just talk Susie into a style or technique because you're comfortable with it or dying to try it. Remove your preferences from the equation and hear what Susie prefers. Help her to identify what she wants if she's unsure how to explain it.

3. Pay Attention to Details Sometimes it's the little things that make or break relationships. Walk through your salon with the eyes of a client, ensuring even the tiniest details (gunky shampoo bottles, stained towels, sticky capes, etc.) aren't off-putting. Your attention to detail tells the client you care about their experience.

4. Be Present Clear your mind before every appointment. Ground yourself, meditate, or simply find a moment of silence to shake off the previous client and prepare to help the next.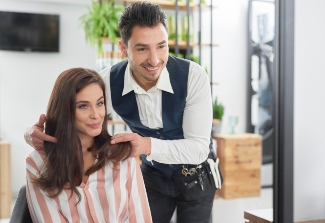 5. Personalize the Experience Just as you must personalize each client's hair, it's also important to personalize the experience. Would they like a tea or sparkling water? How about offering them a dab of essential oil massaged into their temples after their shampoo? These things tell clients they are the most important people in that moment.

6. Educate the Client With each makeover, take the time to teach your clients how to style their new hair so they can enjoy it every day, not just the first day. Make sure to educate them about the products needed for their style and always offer continued education: "Feel free to give me a call if you have any questions or concerns."

7. Make It Easy If you don't accept credit cards, you should. Don't offer online booking? Why not? These are simple ways to make life easier for clients. Before the client leaves, ask when (not if) she wants to rebook. Your clients want an EASY button; give it to them.

If you've done your job right, your client has only positive, special memories of her appointment with you. She will tell others what a great service she just had, and she may even create a Facebook post about it. Even better will be when she picks up the phone and schedules her next appointment!
Are you a licensed hairstylist or barber with something to share with other stylists? We would love to publish your expertise in our blog or AHP Indie Stylist magazine! Reach out to our editor mary@associatedhairprofessionals.com for more information.