Budget-friendly ideas for making your client's holiday appointment extra special
The Beauty Beat with Allison Barfield
Can you believe it's already time to prep for the holiday season in the salon?! Talking to my clients, I realize this year has been just as stressful for them as it has been for me. Every year I like to do something special for my clients during the holiday months, and even though things are a bit different these days, this year is no exception!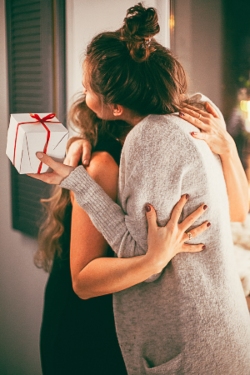 Here are a few great and cost-effective ideas to spoil your clients this holiday season:
A luxurious deep-conditioning treatment. Consider treating every client to a relaxing deep conditioning treatment. I recommend starting no later than mid-November, as the clients we see then may not be back before the December holidays. This will show your client that you want their hair to be at its very best through the entire season. Purchasing a liter or two of your favorite hair masque to offer this extra service can add a lot of value without costing you a lot of money or time. That extra scalp massage, even during a regular condition, can go a long way in making your clients feel special.
A goodie bowl. A second option I love is leaving a bowl of goodies at my station for clients to pick from. I start this in December by bringing a cute bowl from home and stuffing it with all kinds of little treats clients can pick from as a gift to take with them. This year, I'm all about the satin scrunchie for bedtime. I'll have a bowl of full of them in all different colors and patterns for my clients to select from. You can pick up a 3-pack of these scrunchies at TJ Maxx for under $6. Other ideas to fill your bowl are mini bottles of holiday-colored nail polish, sheet masks, travel-size lotions or samples of your favorite hair products. Remember, this is just a little treat, so keep it small, simple, SANITARY, and inexpensive.
For most people, I think, it's the little moments of grace and small kindnesses that mean the most. In the circumstances we find ourselves in at this time, a little bit can go a long way in making your clients feel extra special. They will see that you were thinking of them and going above and beyond to make them feel appreciated.
Are you a licensed hairstylist or barber with something to share with other stylists? We would love to publish your expertise in our blog or AHP Indie Stylist magazine! Reach out to our editor mary@associatedhairprofessionals.com for more information.

DISCLAIMER: Any views, information, techniques, and/or opinions expressed in this article are solely those of the individual author and do not represent those of Associated Hair Professionals. Stylists and barbers are solely responsible for ensuring they are performing all services within their scope of practice, and with the proper training requirements as determined by their state.