This year, add a dash of Barbie and it's on trend! "I usually do spooky, but I'm thinking Barbie is going to be a hit this Halloween," says Karla Valenzuela (@kolor.me.karlaa), Sam Villa Ambassador and Redken artist, who posted her vintage Barbie look on TikTok.
Vintage Barbie Ponytail
Step One:
Section out a horseshoe section from the corners of the brows to the crown.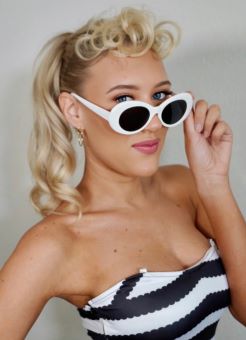 Step Two:
On dry hair, spray Redken Root Lifter Spray throughout hair line and directionally blow dry with a Sam Villa Professional Light Ionic Blow Dryer. Direct hair towards the center back to set the foundation for a high ponytail.
Step Three:
Gather hair into a ponytail using a finishing brush. Secure the tail with a butcher's knot using sewing elastic.
Step Four:
With the finishing brush and Redken Working Hairspray, bring back the horseshoe section and gather it into the first ponytail and secure again with a butcher's knot.
Step Five:
There should be a small split between the ponytail. Grab the smallest section (should be the horseshoe section) and bring the hair forward towards the forehead. This will become the faux curly fringe.
Step Six:
Spray Redken Thermal Spray 22 and use a Sam Villa Artist Series 2-in-1 Marcel Iron and Wand 1" to curl hair in small sections with figure 6 curls.
Step Seven:
Spray Redken Dry Texture Spray to the ends and use your fingers to blouse curls, focusing on the ends.
Step Eight:
Smooth forward the section on top of the head with a finishing brush, making sure not to run the brush all the way to the ends.
Step Nine:
Pin curls into place to create the faux fringe. Lightly bend pins to match the curve of the top of the head to prevent them from sticking up. When inserting them, weave through the hair for better grip.
Step Ten:
To give the ponytail more height, use two bobby pins and insert them through a hair elastic. Flip the ponytail up and secure the ponytail with the bobby pins and elastic. A pin should be inserted on the right side and on the left. The elastic will hold the ponytail into place.
Step Eleven:
Curl the ponytail using the marcel iron at a vertical angle with figure 6 curls. Make sure all the curls face the same direction.
Step Twelve:
Use a finishing brush to style curls and finish with Redken Max Hold Hairspray.