"As a professional hairdresser and business owner, and above all, a human being, it's important to take a step back sometimes to unlearn dated automated concepts that no longer support a unified and safe community," says Jamie DiGrazia, Sam Villa ambassador, Redken artist, owner of Logan Parlor Salon (Logan Square/Chicago) (@jamiedigrazia) and founder of Hair Has No Gender (@hair_has_no_gender).
With this in mind, DiGrazia began formalizing an inclusive education business model and gender-free service menu to share with the industry. Established in 2013, Hair Has No Gender began as a personal practice that has since evolved into a complete professional education offering (plus, business finder!) designed to lead a progressive movement within the professional beauty industry on behalf of the LGBTQIA2S+ community, next generation, and beyond.
The brand's philosophy is rooted in dismantling preconceived notions that have given definition to what society considers as "typical." "When we change our lens," explains DiGrazia, "We allow ourselves the opportunity to see from an organic perspective and engage with others and ourselves from a place of love, inclusiveness, and acceptance."
Hair Has No Gender offers education, tools, and resources that support gender-affirming business practices, and celebrates those committed to ushering in a new era of change.
DiGrazia's training curriculum is made for all service providers who want to expand their consciousness and social awareness to create a safer and more positive client experience. It's designed to educate on inclusive best practices, like gender-affirming consultations and techniques, that can be adapted into any existing business model. The goal is to create more service environments where everyone feels safe and seen. See DiGrazia in action here.
"After years of practicing inclusivity, it became unequivocally clear that the happiness of my clients, along with my own creativity, thrived most when individuality was respected, emotional safety supported, and a state of mutual trust established," says DiGrazia.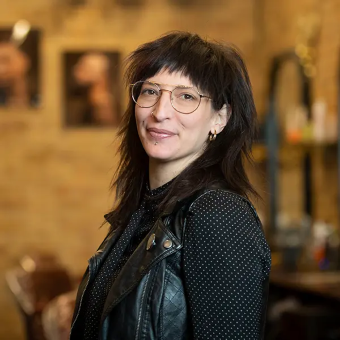 "When we are able to understand and operate from a place of love, inclusiveness, and acceptance, we become magnets for growth in both our professional and personal lives."
DiGrazia will be sharing more on how to create an inclusive service experience through practices like gender-free pricing and gender-affirming consultations, on the mainstage of America's Beauty Show on Saturday, April 15, from 1:45–2:05 p.m.
"I created Hair Has No Gender because I believe that every person, regardless of gender or identity, has the right to receive a safe and positive professional experience. I also believe that with education, every business has the potential to contribute," DiGrazia says. "This is your invitation to embark on a path toward inclusivity and help lead a positive change for the future of our industry."
"Inclusivity must be a priority in the hair and beauty industry; everyone should always feel welcome, safe, and respected—both stylists and guests," says Sam Villa, co-founder and chief creative officer of Sam Villa and global artistic ambassador for Redken. "Jamie's dual approach of creating an ethos at Logan Parlor where guests feel welcome and safe, as well as educating other salons professionals on how to serve a diverse community behind the chair while upholding high standards and promoting inclusivity is impressive. She/They are helping create affirming salon experiences across the country for ALL."
To learn more about Hair Has No Gender and booking opportunities, contact Social Art House at maria@socialarthouse.com.
Sam Villa is co-founder and chief creative officer of the Sam Villa Company (Allvus, LLC), a leading education and styling tool company for the professional hair
industry. He is also Global Artistic Ambassador for Redken 5th Avenue, a L'Oreal
brand. Villa is the 2021 NAHA Educator of the Year, Hair Awards USA Hall of Fame Inductee, 2021 AHP Icon Stylist Influencer of the Year, 2020 International Hairdressing Awards 'International Hair Influencer of the Year,' the 2017 NAHA Lifetime Achievement Award Winner, Intercoiffure America/Canada Member, Behind the Chair Stylist Choice Award Winner for Favorite Platform Artist and Educator (2012, 2011 and 2007) and Favorite Overall Educator of the Year (2015). His inspiring education and innovative ergonomic styling tools can be experienced on samvilla.com. The Sam Villa brand brings free digital education to everyone including hot tips and techniques, as well as access to live streamed educational events. The company also offers professional tools for consumers so they can achieve salon-quality results at home with minimal effort.