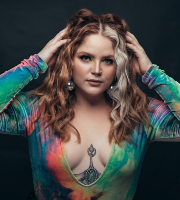 Mariah Walraven, a stylist working at Phan House in Scottsdale, Arizona, shares her formula for the perfect heavy-metal gray

This deep gray color is perfect for the client who wants a little rock 'n' roll edge. Stylist Mariah Walraven stresses the importance of lifting low and slow to achieve the lightness needed for this color. Going too fast can cause unnecessary damage to the hair, which affects the porosity. Compromised tresses will not hold onto this tone evenly, resulting in color that fades too quickly and can appear blotchy. And remember to educate your clients on the importance of conditioning treatments and proper color maintenance. Fading is inevitable with this color. Walraven recommends Schwarzkopf Professionals Goodbye Yellow Shampoo to keep the gray dark and cool.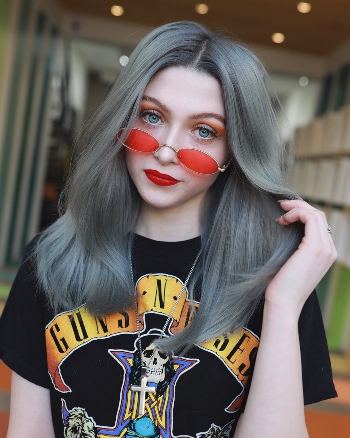 THE FORMULA
A: Schwarzkopf Blondme Bond Enforcing Premium Clay Lightener and 7 Volume Developer
B: 60g Schwarzkopf Igora Royal 8-211; 20g Schwarzkopf Igora Royal 8-11; 20g Schwarzkopf Igora Royal 6-12; 20g Schwarzkopf Blondme Blonde Toning Steel Blue
THE TECHNIQUE
Step 1 Apply Formula A to the first ½-inch of the root area.
Step 2 Starting at the nape with ¼-inch sections, continue applying Formula A to the mid-lengths and ends. Insulate sections with mesh and continue through the front of the head.
Step 3 Once processed, pull the mesh and emulsify the lightener into the ends for 10 minutes.
Step 4 Rinse, shampoo, and condition.
Step 5 Apply Formula B on damp, towel-dried hair beginning with the root area. Then, pull through the ends. Step 6 Allow to process 30 minutes. Then rinse, shampoo, and condition.

AHP Indie Stylist is AHP's bimonthly publication, created to speak directly to you, the independent hair stylist and barber. In this issue:
► Empowerment through Creativity
Hair artist Shanna Anise empowers young people of color
► Luxe Highlights
A gray coverage upgrade
► A Call to Action
Advocate for regulation in our industry
► Take Time for the Three Rs
Give yourself and your business a kick start
Are you a licensed hairstylist or barber with something to share with other stylists? We would love to publish your expertise! Reach out to our editor mary@associatedhairprofessionals.com for more information.