By AHP Staff
According to a study by the Corporation for National & Community Service (CNCS), 77.3 million people in the US (about 30 percent of the population) volunteered their time to some sort of charitable organization in 2018, which yielded an estimated economic value of around $167 billion. But you're a hustlin' hair pro, and where does a hairstylist like you find the time?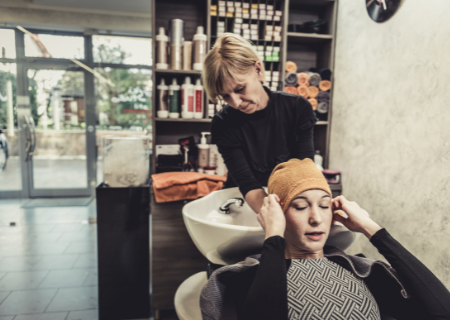 When your resources like time, money, and energy are limited, you have to decide what your priorities are. Lack of time is the top reason why most people don't ever consider volunteering. "Research has shown that while 90 percent of us want to volunteer, only 1 out of 4 Americans actually do," says Amy Yotopoulos of the Stanford Center on Longevity.
As hairdressers and barbers, we lead busy lives. Sometimes it seems there are not enough hours in the day for all our clients, our family, and our self-care. But we are also very compassionate beings. We all know time is precious, but the feeling you will have when you've chosen to give your time to something or someone you really care about is well worth the sacrifice of a few hours a week. Giving from the heart brings a spark of joy to your life.
If your time is limited, consider donating the hair from your client's services. You can also donate money to your favorite charity, if your financial situation allows, whether it's cancer survivors, underserved communities, or special needs. Whether it's a lack of free time or money holding you back, below are just some of the many easy solutions to volunteer and feel good doing it.
Charities for the Environment
The Clean Wave program was established by the Matter of Trust charity to promote the donation of hair, fur, and fleece clippings to create hair mats and brooms that soak up major oil spills and help keep storm drains and waterways clean. www.matteroftrust.org/collecting-hair-fur-fleece.  
Charities Serving Kids
Charities Serving Women
The BeYOUtiful Foundation provides hope, resources, and a path to feeling beYOUtiful. It's a community committed to women of all ages defying the odds against cancer. The foundation is a 501(c)3 nonprofit organization committed to connecting salons and stylists to local survivors, providing online education (covering cutting, styling, using wigs, and dealing with chemo hair). From little girls to bright young ladies, supermoms and businesswomen, the BeYOUtiful Foundation is for all of us. www.beyoutifulfoundation.com   

The Justice and Soul Foundation empowers trafficked and at-risk young women and men to become confident and self-sufficient individuals through vocational training in cosmetology and to help them earn a sustainable living to keep them from returning to trafficking for survival. www.justiceandsoul.org  
Charities Serving the Homeless
The Sidewalk Salon is a nonprofit organization that works with professional hair stylists, cosmetology schools, and homeless shelters to provide quality hair care services to those experiencing homelessness and to help them gain a positive self-image and better outlook on life. www.sidewalksalon.org  

Haircuts with Heart is a nonprofit organization whose mission is to help those in underserved communities, including people experiencing homelessness and poverty and veterans and their families, rediscover their identity by offering professional, free hair care services in pop-up salons. www.haircutswithheart.org  
If you are feeling inspired and have time and energy to give, consider an online volunteer matching service like VolunteerMatch or Idealist. You can search these sites by location and the type of volunteer activities available. Just find an opportunity that interests you, fill out a volunteer application, and you'll be on your way!
Giving your time, energy, money, and other resources feels great, but you can also make a real impact if you have the resources. Find a way that's right for you. You'll know it's right when you're giving from the heart.

"We make a living by what we get, but we make a life by what we give."
Winston Churchill