Clean Beauty
Simply put, clean beauty means "free of things that can harm you." It's been stated that 60% of what you apply topically makes its way into the blood stream and may even be filtered by the liver! This may give you pause and question the products you use daily. Some of the cosmetic and hair care ingredients eliminated from clean beauty products include: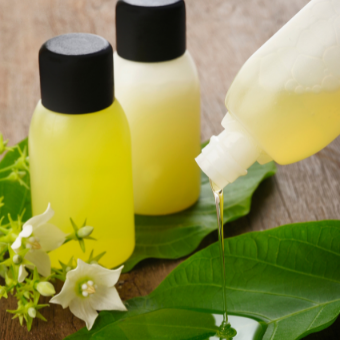 Parabens
Synthetic fragrances
Sodium lauryl sulphate (SLS)
Phthalates
Artificial colors
Formaldehyde
Aluminum compounds
Hydroquinone
Oxybenzone
Triclosan
Refined petroleum
Talc
Butylated hydroxyanisole (BHA)
Many of the hair care ingredients listed here have been known to cause rashes, dandruff, and other forms of irritation. Ingredients such as sodium lauryl sulphate can also be very drying to the hair. Synthetic fragrances may lead to headaches, coughing, wheezing, and skin irritation. Aluminum compounds are a common allergen and can cause redness and peeling of the skin.
Unfortunately, there is not much regulation in the U.S. when it comes to the cosmetics and hair care industry. There are only about 30 toxic ingredients banned in the United States compared to 1,500 in Europe and 500 in Canada!1
You Are What You Eat
Clean beauty comes from the diet movement of "clean eating," and the concept that you are what you eat. When you consume natural whole foods instead of processed and synthetic foods, your hair will feel soft and look shiny. There are many diets on the market today that promote eating for beauty.
The eating for beauty movement has transcended what you put in your body, taking this concept a step further to include what you put on your body.
Green Sprouted from Clean
The word green is synonymous with natural, organic, or healthy and is often associated with a product or company made with sustainable resources. The green beauty movement often incorporates the use of renewable plant-based products and include natural oils and agricultural plans that are used to produce oils, emulsifiers, and alcohols. Some common hair care ingredients that are produced sustainably include:2
Fatty acids
Castor oil
Coconut oil
Phenoxyethanol
Some hair care ingredients that are not sustainable include:
BHA and BHT
Coal tars
Aluminum
DBP
Formaldehyde-releasing preservatives
Where Green and Sustainable Clash
Green beauty is amazing for the body and hair, but it's not always sustainable for the planet. Palm oil, essential oils, and other preferred hair care ingredients are natural resources that, when stripped from the landscape, can have a lasting impact on the environment. This is where the decision to use synthetic alternatives is made—and it's not always a bad decision. A good example of this is fragrance. Producing a single pound of lavender essential oil can take roughly 250 pounds of lavender, while producing the same amount of rose can take roughly 10,000 pounds of rose petals. The effort and impact involved to get those raw materials compared to making a synthetic version of the fragrance shows that natural fragrances are not always more sustainable.3
As yourself this—why is it important to ask my clients if they have any allergies?
Have you ever had a client have an allergic reaction?
Have you ever wondered why after using certain products can make it harder to breathe or make you sneeze?
Have you ever had guests who have come to us after using a product and say that they may have felt funny after use?
These are just a few examples we can think about and take a deeper dive into some research to maintain safety for not only us, but also for our guests.
NOTES
1. Tara Foley, "Clean Beauty 101: Why It's Important and How to Get Started" accessed March 2022, https://kripalu.org/resources/clean-beauty-101-why-it-s-important-and-ho....
2. Acme-Hardesty.com, "Green Cosmetics: The Push for Sustainable Beauty," accessed March 2022, https://acme-hardesty.com/green-cosmetics-sustainable-beauty/#what-are-g....
3. M. Mcintyre, "The Hard Truth: Natural Ingredients Aren't Always the Most Sustainable," accessed March 2022, www.byrdie.com/natural-synethtic-ingredients-sustainability-4843069.