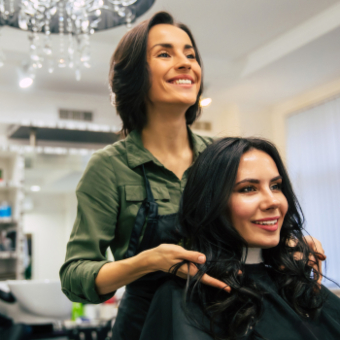 Hey Babes! I'm here to share some dirty little secrets to clean up your time management, relationships, self-worth, financial success... or whatever is on your laundry list.
Let's start here:
How do you feel about business policies?
I think policies are about as fun as a sunburn margarita hangover on your second day of vacation. That said, every business owner should have policies written out to cover you when things don't go as planned.
An alarming fact is that most of us rarely fill a last-minute cancellation, which can make us smolder while waiting for our next client. (Obviously, we aren't talking about a regular that had a true emergency.)
Now picture that client, let's name her Karen. You call her because it is now 15 minutes past her appointment time. Karen answers and tells you she has not left her house yet and wants to know what other times you have available today. (This is a real example; I seriously could not make this up!) You're ready to burst, but it's what we do from here that defines our branding and salon image.
You could say, "Sure, I can get you next Saturday?" But chances are she won't show for that appointment either. Perhaps you say, "Well, I'm sitting here waiting for you, it's Saturday, so no, I don't have any other openings!" Hold on one hot second unless you want a bad review along with lost wages.

You can make these three simple changes to your cancellation policy today to avoid this problem in the future. (And, in my business, I treat all clients the same—yep, even friends.)


1. Decide how many "get out of jail free" cancellations your clients can have. In my salon, we offer one last-minute cancellation per client. Here is sample verbiage you can write to your client during that cancellation day:
"Although we understand life can cause changes to your schedule, we only waive one last-minute cancellation fee. If you have to cancel for any reason in the future, please allow 24-hour notice per our cancellation policy. Thank you for your understanding. We appreciate your business."


2. Request a credit card while booking. I found my cancellations and no shows dropped by 85% when I started doing this! I also found that new clients afraid to book with a credit card were often the last-minute cancellation culprits. Do you have an online booking system? It may be as simple as turning on that feature! If not, it may be an extra step, but it will prove to be well worth it when you are making guaranteed income on all your appointments. Nobody likes to hear, "I told you so," but I'm here if you need me!


3. Make your cancellation policy public. Sometimes we think our clients know our industry as well as we do. A client who works on salary may have no idea they are giving you a pay cut by canceling at the last minute. An easy way to incorporate this cancellation policy is by sending out a newsletter, posting it on social media, or posting it in your salon. I have found it handy to text the day they book their appointment. (This is also an online booking feature you can indulge in.) You can text something like this:
"Thank you for booking your next appointment. If you need to cancel, please give at least 24-hours' notice; otherwise, we will be forced to charge a 50 percent cancellation fee. We look forward to seeing you soon!"

Stay cool and remember this is your business; you are the one calling all the shots. Do not reach your boiling point at 8am on a Saturday when your first client no-shows. Instead, charge them. Get paid for your time and see how sweet a cappuccino can taste while you wait for your next client.
Here is your polish work this month:
Implement a cancellation/no-show policy
Set up your credit card policy
How much advance notice do you need? What will you charge?

Article by Tanya Owens
International Artistic Director, Hair Construction
Struggling? Unsure of your worth? Messology coaching is here to help! Messology coaching was created by Tanya Owens. For years, she has loved hearing "I trust you" from her clients in the salon, and now she's taking it to the next level with coaching. Tanya has 19 years experience helping clients behind the chair with their depression, anxiety, relationships, and time management and 12 years owning a thriving salon. She is eager to accompany clients offering beauty industry professionals a fast track way to make more money and grow a loyal salon. www.messologycoaching.com