GET THE RIGHT PROTECTION WITH 15% OFF ALL ONLINE ORDERS OF TOP GRADE PERSONAL PROTECTIVE EQUIPMENT + FREE SHIPPING FOR A LIMITED TIME ONLY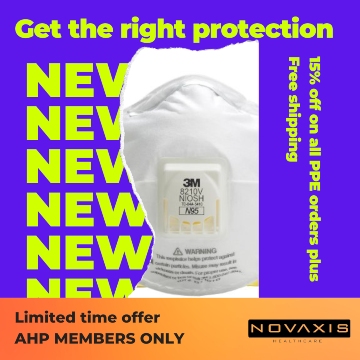 Novaxis Healthcare is committed to our community safety initiative project which involves providing products and services that will contribute to flattening the curve so we can all return to work and safely continue the re-opening process. As a trusted source of top grade personal protective equipment, we believe all frontline workers should have access to top quality masks and other top-grade PPEs. We are giving AHP members access to the same grade of personal protective equipment that health providers use.
Who should get these supplies:
• People in a service-oriented industry who must provide their services in person.
• Professionals who work in close contact with their clients.
• If these conditions apply to you, act now to get the right protective equipment, and reduce your risk.
AHP members receive 15% off their entire order of PPE and FREE shipping. Click HERE to save!