THE FORMULA: Rose Blonde
Wella Professionals Global Artists Matthias Herzberg and Reyna Xydis created this #RoseBlonde look using new Colour Touch shades 8/35 and 9/75 in the LuxeLights Technique.
THE FORMULA
Freelights Powder • Freelights Developer
A: 30g Powder • 45g 9%
Color Touch • Color Touch Emulsion
B: 20g 8/35 • 40g 19%
C: 20g 9/75 • 40g 19%
THE PROCESS
Step 1: Divide the hair into two sections, one on each side, and leave out the hair at the nape.
Step 2: Starting at the front, apply formula A to the lengths and ends. Continue toward the crown area.
Step 3: Repeat on the other side, working from front hairline to crown.
• Use your fingers to blend formula A onto the surface of the hair for a seamless transition.
• Develop until a level 9/0 is achieved. Shampoo and neutralize with Blondor Seal and Care.
Step 4: Apply formula B to the root area, stretching the color over the line of regrowth for a seamless, blended finish.
Step 5: Apply formula C to the lengths and ends of the hair. Use your fingertips or a combe to blend into the root color.
• Develop, rinse, shampoo, and neutralize with Color Motion Express Post-Color Treatment.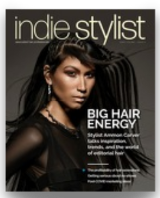 AHP Indie Stylist is AHP's bimonthly publication, created to speak directly to you, the independent hair stylist and barber. In this issue:
► Big Hair Energy
Stylist Ammon Carver talks inspiration, trends, and the world of editorial hair
► Long & Lush
The profitability of hair extensions
► Waiting for Linda
Getting serious about no-shows
► The Modern Shag
The shag is back with a bang
READ AHP INDIE STYLIST

Are you a licensed hairstylist or barber with something to share with other stylists? We would love to publish your expertise! Reach out to our editor mary@associatedhairprofessionals.com for more information.