By Sam Villa
"Simplicity blended with precision is today's polished elegance.  Fine hair that's naturally straight to moderately wavey is soft, flowing and head hugging. An ideal texture for this quintessential pixie," explains Teresa Romero, creative director for Sam Villa. This go-to haircut can be worn by many personalities and face shapes, the customization is reflected through texturing.  Remember to:
Keep cutting sections thin and precise
Avoid excessive over direction
Save texturing for when hair is dry for maximum refinement
"Since fine hair is already visually soft and hugs the head, it's important to texturize with a plan. Deliberate point cuts in a 'V' shape across the top and in the fringe will create movement and depth, while random point cuts create soft floating pieces," adds Romero.
How to Cut a Fine Hair Pixie
Use Sam Villa Signature Series 5.75" Shears on damp hair and starting behind the right ear, use diagonal back sections to elevate hair 90 degrees. Fingers should mirror the section line. Allow hair to remain 2–3 inches long. 
Working with a traveling guide, repeat sections until just past the center back. 
Repeat the process at the left back of the ear.
Using vertical sections through the crown and sides, blend with the hair behind the ears. 
On the top, elevate the hair straight up and blend to the sides and crown. 
Leave a longer fringe to soften and highlight eyes or create drama with micro fringe.  
Air dry with Redken One United Leave-In Conditioner or blow dry with a Sam Villa Professional Light Ionic Blow Dryer and Redken Big Blowout for volume and texture.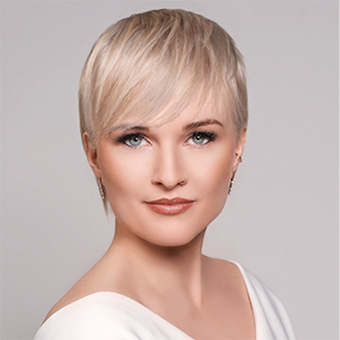 Credits:
Creative Director: Teresa Romero
Hair: Becka Bradshaw Sam Villa Ambassador
Photographer: Nico Nordstrom Obsidian and Blush
Wardrobe: Michi Lafary Obsidian and Blush
Tools: Sam Villa
Products: Redken
Makeup: Leticia Tapia and Delia DeLeon
Model: Tana Rose 
Sam Villa is the co-founder and chief creative officer of the Sam Villa Company (Allvus, LLC), a leading education and styling tool company for the professional hair industry. He is also Global Artistic Ambassador for Redken 5th Avenue, a L'Oreal brand. Villa is the 2021 NAHA Educator of the Year, Hair Awards USA Hall of Fame Inductee, 2021 AHP Icon Stylist Influencer of the Year, 2020 International Hairdressing Awards 'International Hair Influencer of the Year,' the 2017 NAHA Lifetime Achievement Award Winner, Intercoiffure America/Canada Member, Behind the Chair Stylist Choice Award Winner for Favorite Platform Artist and Educator (2012, 2011 and 2007) and Favorite Overall Educator of the Year (2015). His inspiring education and innovative ergonomic styling tools can be experienced at samvilla.com. The Sam Villa brand brings free digital education to everyone, including hot tips and techniques, as well as access to livestreamed educational events. The company also offers professional tools for consumers so they can achieve salon-quality results at home with minimal effort. 
Facebook: @SamVillaPros; Instagram: @SamVillaHair;  YouTube: @SamVillaHair; 
Twitter: @SamVillaPro;; Pinterest: @SamVillaHair. Contact: Glow Communications / squinn.glow@me.com, 207-781-2598.