We're fairly certain you didn't enter the colorful world of cosmetology to be pushing papers. In fact, most of you were probably drawn to pursue hair styling as a career due to your creative expertise and imaginative ways—not to sit there and do office work all day.
But what happens when that one guest walks in and wants the exact same color service you gave her months ago? You can't remember what you did on her because you did not write her formula down. She sits in your chair, and you try to color-match her, but the color has faded, and she is sitting there with two inches of outgrowth looking to you as the professional to make her hair beautiful again. Do you admit you were in a hurry the day she left because you were excited to meet your friends after work? Do you try to wing it in the hope that it turns out the same way it did before? You try to remember if you just did a touch up or if you had added in a few highlights. You failed to write down her formula, what you did, how long the processing time was, or how much you charged her for the service.
Doing these simple tasks, such as updating client cards, can help you and your future business in the long run. By not having the proper documentation, you not only risk upsetting and losing a client, but you also risk diminishing your reputation as a responsible, attentive hair stylist. Try to think of this as an extension of the great customer service you already provide your guest.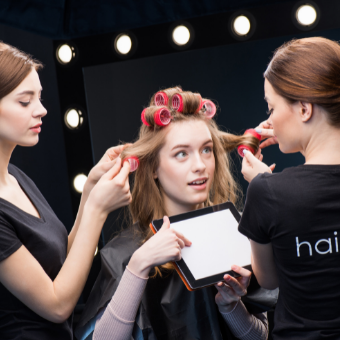 Updating your clients' service records should be a priority in your day to day.
Here are a few tips to achieve this:
As soon as you are finished with the consultation and have a game plan in place, write the formula down on a piece of paper or make your way right to where you keep client records and input what you've discussed.
Have a dry-erase marker and write on your mirror at your station what formula you are using right then and there. When you are finished with the service, that information is ready to be converted to the guest's profile.
While mixing the client's formula, take the extra minute and input the information into their record.
After the guest checks out and leaves, immediately put their information into their record before moving on to your next guest.
Whichever step you decide to use, know that any way is a good way to keep from losing a potential repeat client due to negligence.
Another good tip is to jot down a few notes into their record of what you talked about. Is this client getting married, have a new significant other, going on trip, etc? These are great things to add to their profile so the next time they come in, you already have a great conversation starter and will show the client you remember them and care about them.
Other information to document includes any aftercare you provided for the guest, the results of the service, retail products they bought, and whether you are going to change anything in future visits. What was the condition of her hair and were there any adverse reactions to the treatments provided? This will all help you as the professional to determine what you will do in the future and any additional retail products or add-on services you may recommend for them.
While it may not be the most exciting aspect of your day-to-day duties, these records are an absolute must. Aside from impressing your client with your professionalism, maintaining records of your client's hair care and history is insightful, saves you time, and keeps your client safe.