#nofilter
By Emma Buchbinder, with Virtue Salon hairstylists Louie, Teake, Allison, Lindsay, and Kendra
This article appears in Volume 3, Issue 1 of AHP Beauty Sense magazine, available at: https://beautysense.associatedhairprofessionals.com/i/1116298-volume-3-issue-1/11?.
"At our salon, we are committed to the integrity of our photos. Our images are captured by one of the wonderful photographers we work with and our highest priority with editing these images is to reflect the real, raw, beautiful services completed in-house.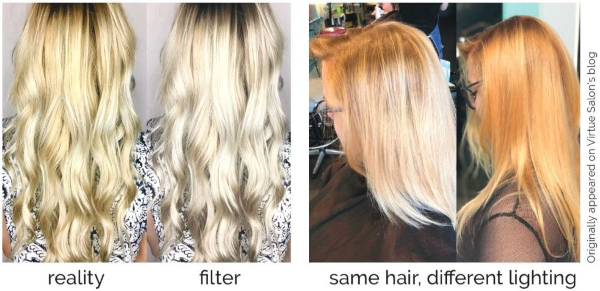 Photoshop is a great resource that has many useful tools to enhance photos and give them that little something extra that a smartphone can't capture. For example, you can use it to brighten images that were taken in poorly lit areas, or sharpen some of the details that were missed with a phone camera. However, it's easy to go overboard when it comes to editing photos. When photo editing is overdone, Photoshop changes from a photo enhancer to a tool that distorts the reality of certain services.
With the variety of photo editors and apps available, it's easy for social media to misrepresent colors and tones. A picture of hair taken in studio lighting can look completely different than a photo of the same hair taken in natural lighting. This is especially true of blonde tones or vivid, vibrant colors. Every hair color can reflect warm tones and cool tones depending on a multitude of factors: eyesight of the viewer, indoor or outdoor lighting, skin tone, the colors of the surrounding area, etc. When discussing possible color options with your hairdresser, it is important to consider your natural skin tone and eye color—not just the hairstyle of your favorite Instagram model.
Due to the nature of photo editing, sometimes services are misrepresented. This affects not only the guest's expectations, but can also make it more difficult for the hairdresser and guest to get on the same page. Some examples of this misrepresentation in media include:
A simple Pinterest search for balayage can turn up with foilyage, full highlights, and other even more intensive and expensive services that are everything but a balayage.
Before-and-after photos of black to pastel pink hair and expecting it to happen in one appointment.
Photos of super long, super thick, "perfect hair" but failing to mention the use of extensions, wigs, or hairpieces.
The alteration of images affects most areas of the beauty industry—not just color services but even clipper cuts. Andrew Kozak of @andrewdoesahair once put out a post revealing Photoshop methods that some barbers use to smudge and manipulate fades of clipper cuts. He ended up taking down the video because his honesty toward photo editing upset people.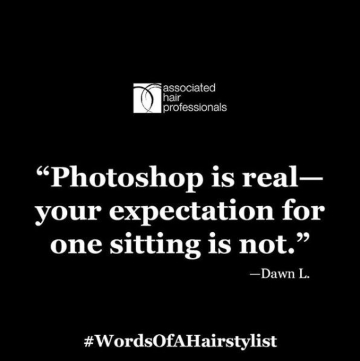 Recently, Kim Kardashian's hairdresser, Chris Appleton, broke down the process and cost that went into Kim's finished look. Kristin Grip (@hairbyKristinGrip), a stylist and salon owner in Southern California, also frequently posts images that demonstrate the difference between filtered reality and actual reality on her Instagram account. These and many other hairdressers and salons are transparent with their images and honest about the multi-appointment process it takes to achieve certain looks.
When it comes down to it, the reality is that we now live in a filtered world and we think through a social media lens. Many times, we don't want to settle for a #nofilter photo. Whether it's images that are overedited to fit the aesthetic of the composition of Instagram profiles or tweaking the saturation of a vivid service because it just doesn't look violet enough, there is a temptation to distort reality. This is important to keep in mind when looking for hair inspiration photos. While they may look beautiful, they may not be 100 percent real life. Instead, it may be real life enhanced by VSCO Cam filter #A5."

AHP Beauty Sense is a magazine created by Associated Hair Professionals for consumers featuring advice on hair care, hairstyling, and beauty written by the real professionals—licensed hairstylists and barbers.
Are you a licensed hairstylist or barber with something to tell clients about our industry? We would love to publish your expertise! Reach out to our editor ali@associatedhairprofessionals.com for more information.

Follow @ahphair for more #wordsofahairstylist