Wella Company Unveils Plans Behind its New We Create Virtual Event
On Sunday, April 25, 2021, the newly formed Wella Company will be hosting its first ever We Create virtual event, a global celebration of the hairdressing craft through a jam-packed agenda of shows, seminars, and intimate conversations—open to everyone out there who is, loves, or is inspired by global hairdressing community.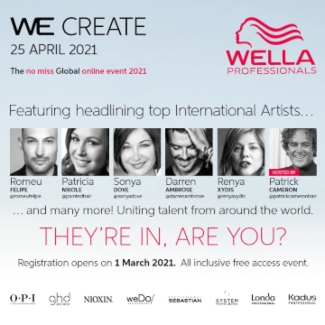 Featuring some of the biggest names in the industry, such as Briana Cisneros, Patricia Nikole, Diane Stevens, Zach Mesquit, Romeu Felipe, Nicole Revish, Patrick Cameron, Renya Xydis, Robert Eaton, Sonya Dove, Darren Ambrose, Rossano Ferretti, Mark Hayes, and many more, We Create will also host the International Trend Vision Award as part of the program, when the ITVA 2020 winners will be announced live!
The We Create event will be accessible to beauty professionals all over the world and gives the audience the ability to select the topics that interest them most. Two channels of streaming content will be broadcast simultaneously and will be available for viewing after the live event has ended for up to one month. Both channels are a celebration of creativity, inspiration, and business, professional, and personal growth, with top artists and experts sharing the latest hair trends and their expertise and knowledge.
We Inspire – This channel showcases top artist shows from around the globe, featuring content on how the shows were built from concept to the final reality. The announcement and celebration of the winners of all categories of the International TrendVision competition will be on this channel.
We Transform – This channel is dedicated to real-life makeovers and the power of hair transformation, along with plenty of inspiration and ideas on how to attract and retain clients with a great portfolio of looks and featured services.
Registration for We Create is open and is completely free—our gift to the industry.
We Create was designed for sharing knowledge, creativity, and enthusiasm within the hairdressing community. Please register for the event here. We Create starts at 10:00 a.m. PST/1:00 p.m. EST.