The "new natural" is all about inclusivity and enhancing what makes us all unique. Long, medium, short . . . straight, wavy, curly, highly textured, coils . . . rough or smooth. This fall is a celebration of variety and a green light for creativity for both stylists and consumers alike.
Model 1: Deep Waves
"Hair is filling up with big texture this fall, whether it's polishing and defining natural hair or adding volume to straighter textures. Deep wavers are popular now because they can create a variety of looks on all textures. Beautiful glam Hollywood waves or beach waves, depending on how you turn the waver and what finishing products you use," explains Teresa Romero, artistic director for Sam Villa.
Start with clean, dry hair at the nape. Subsection hair into 1.5-inch horizontal sections, spray with Redken Iron Shape 11 thermal protecting spray, and brush through with a Sam Villa Artist Series Finishing Brush.
Place a Sam Villa Pro Results Single Deep Waver in a horizontal position one inch away from the scalp and open as far as it will go.
Gently place the hair into the iron and close softly for 3 to 7 seconds, depending on hair texture and condition. Option: Turn waver vertically for a beach wave.
Open the iron, slide down the strand and repeat until the ends. Allow hair to cool.
Repeat each step on all horizontal sections.
Use fingers to separate hair for a more textured look or brush through for a glam, old-Hollywood polish.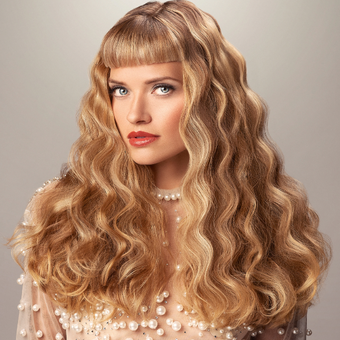 Hair: Teresa Romero, Sam Villa Artistic Director; Photography: Nico Norsdström/Obsidian and Blush; Makeup: Sarah Contey and Leticia Tapia; Wardrobe: Michi Lafary/Obsidian and Blush; Model: Irene Kukh; Tools: Sam Villa; Products: Redken.
Model 2: Polished Coils
"I'm always of the mindset to celebrate individuality – to include all people and uplift and celebrate their hair in any way I can," says Ashley Brown, Sam Villa ambassador and Mizani artist (@ash_hairbarbie).
Prep: Shampoo and condition hair with Mizani True Textures Moisture Replenish Shampoo and Conditioner. After rinsing, cover hair with a plastic cap. Start in the nape with a horizontal section. Keep the rest of the hair in the plastic cap. Saturate the section with water and Mizani 25 Miracle Milk. Evenly distribute product with a Sam Villa Signature Series 9 Row Finishing Brush.
Follow with Mizani CoCo Dew and Foam Wrap. Apply liberally and evenly distribute with the brush.
Scrunch product into hair. Gently separate curls for added definition.
Repeat steps 1–4 with the remaining sections of hair.
Diffuse hair with a Sam Villa Light Professional Ionic Blow Dryer and deep bowl diffuser on high heat and low airspeed. Try not to touch or disrupt the curls. Start with the head in an upright position and once curls are set, to add volume, finish diffusing by moving head forward, backward, and side to side.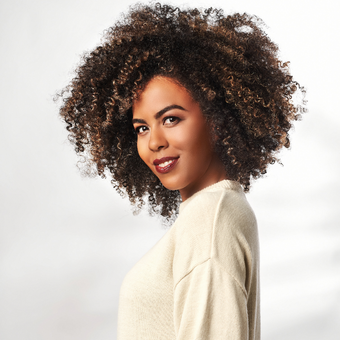 Hair: Ashley Brown/Sam Villa Ambassador; Artistic Director: Teresa Romero; Photography: Nico Norsdström/Obsidian and Blush; Makeup: Tanya Ortega and Leticia Tapia; Wardrobe: Michi Lafary/Obsidian and Blush; Tools: Sam Villa; Products: Mizani.
Sam Villa is Co-founder and Chief Creative Officer of the Sam Villa Company (Allvus, LLC), a leading education and styling tool company for the professional hair industry. He is also Global Artistic Ambassador for Redken 5th Avenue, a L'Oreal brand. Villa is the 2021 NAHA Educator of the Year, Hair Awards USA Hall of Fame Inductee, 2021 AHP Icon Stylist Influencer of the Year, 2020 International Hairdressing Awards 'International Hair Influencer of the Year,' the 2017 NAHA Lifetime Achievement Award Winner, Intercoiffure America/Canada Member, Behind the Chair Stylist Choice Award Winner for Favorite Platform Artist and Educator (2012, 2011 and 2007) and Favorite Overall Educator of the Year (2015). His inspiring education and innovative ergonomic styling tools can be experienced on samvilla.com. The Sam Villa brand brings free digital education to everyone including hot tips and techniques, as well as access to livestreamed educational events. The company also offers professional tools for consumers so they can achieve salon-quality results at home with minimum effort.
Facebook: @SamVillaPros; Instagram: @SamVillaHair; YouTube: @SamVillaHair; Twitter:@SamVillaPro;; Pinterest: @SamVillaHair.