Fall always makes people want to primp a little more to look good for school or the office. It's still a little warm out, but we're all dreaming of boots, cashmere, tweed, and leather. Sam Villa ArTeam Member Ellen Devine (@ellendevinehair) shares a look with the perfect balance of carefree natural texture combined with the polish of a Bardot-inspired bump to beat the heat while looking cool.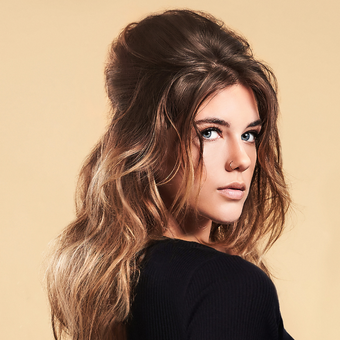 1. Prep hair with Redken Full Frame 07 for control and body, and use a Sam Villa Light Professional Ionic Hair Dryer with diffuser to dry hair on high heat and low speed. For extra volume, twist the diffuser.
2. Once dry, brush through lightly with hands to loosen the natural waves. For extra volume, hit the root area with the Sam Villa Signature Series Textur Professional Texturizing Iron in the crown area, making sure to crimp underneath the part line.
3. Backcomb the crown area using a Sam Villa Artist Series Polishing Paddle Brush, using the first few rows of the brush to slightly smooth hair back, and making sure to leave a bit of natural texture.
4. Drop out front pieces, gather hair above the parietal and secure in the back area by twisting hair and inserting a bobby pin upwards with the wavy side against the scalp. Use another bobby pin to cross over the previous one in an "X" pattern. Secure any other areas with hairpins to lightly hold hair in place without making it too tight.
5. Spray with Redken Triple Dry 15 for hold and a natural, textured, airy finish.
Facebook: @SamVillaPros; Instagram: @SamVillaHair; YouTube: @SamVillaHair; Twitter: @SamVillaPro; Pinterest: @SamVillaHair.
Credits: Hair: Ellen Devine, Sam Villa ArTeam; Artistic Director: Teresa Romero; Photography: Nico Norsdström/Obsidian and Blush; Makeup: Tanya Ortega and Leticia Tapia; Wardrobe: Michi Lafary/Obsidian and Blush; Model: Alyssa Mitchell; Tools: Sam Villa; Products: Redken