During the dark season, shed some light
Just because it's getting colder and darker doesn't mean our hair needs to tone down or get darker. You can always play with warmer and lighter tones by using hair contouring techniques. This color trend is a seamless highlight technique with a color-contouring effect. It's perfect for this time, since your client can go for a long time between touch-ups before they see a demarcation line.
WHY I LOVE HAIR CONTOURING AND HIGHLIGHTS
It's low maintenance. The lightness around the face provides a perfect frame and complements the complexion, skin tone, and eye level. Also, this color is great because it's easy to adapt and change the tone seasonally without crazy color changes. It feels like you are always being kissed by the sun.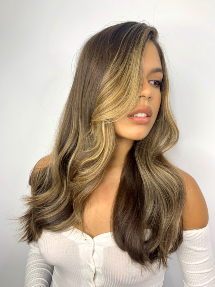 WHO HAIR CONTOURING IS BEST FOR
Literally anyone with any natural hair color can have this blonde by going lighter, keeping it super subtle, and focusing just on contouring or framing the face with some delicate seamless weaving strands. This trend is for women who like the feeling of being lighter or blonde, but want low maintenance and don't want to change their natural base color.
GET INSPIRED
Tauni Dawson (@taunidawson) specializes in "natural sun-kissed color" and knows how to highlight without overdoing it, and London-based Christel Barron-Hough (@christelbarronhough) is an award-winning colorist with a perfect mix of technical expertise and creative flair.

AHP Indie Stylist is AHP's bimonthly publication, created to speak directly to you, the independent hair stylist and barber. In this issue:
Are you a licensed hairstylist or barber with something to share with other stylists? We would love to publish your expertise! Reach out to our editor mary@associatedhairprofessionals.com for more information.